MP Ward denies being disciplined for comments on Jews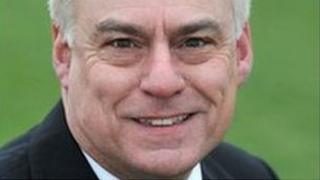 Lib Dem MP David Ward has denied he was ordered to attend "language classes" after making controversial comments about "the Jews".
It comes a week after disciplinary proceedings were adjourned following a meeting with leader Nick Clegg.
The party had said Mr Ward agreed to work with the Lib Dem Friends of Israel to identify "proportionate language" to use in the future to express his views.
But the MP said that this "does not reflect what I believe was decided".
The Bradford East MP was forced to apologise last month after saying on his website that he was "saddened that the Jews, who suffered unbelievable levels of persecution during the Holocaust, could within a few years of liberation from the death camps, be inflicting atrocities on Palestinians in the new State of Israel and continue to do so on a daily basis in the West Bank and Gaza".
Mr Ward initially defended his comments and said his party's response - reprimanding him - had been "regrettable", but later apologised for the "unintended offence" which his words had caused.
He has insisted that neither he nor his comments were anti-semitic.
'Legitimate concern'
But there was subsequent controversy when a Jewish newspaper reported Mr Ward had asked if it would satisfy his critics if he changed the wording to read "the Jewish community" instead of "the Jews".
The party began full disciplinary proceedings following the comments.
In a letter to Mr Ward written after the meeting last week, the chief whip Alistair Carmichael wrote: "At the meeting you undertook to work along with Liberal Democrat Friends of Israel and Simon Hughes MP to identify and agree language that will be proportionate and precise in your future interventions in this debate.
"We would also hope that this would allow you to achieve a better understanding of the legitimate concern that your comments has caused within the wider Jewish community."
In an article published on his website, Mr Ward was quoted as saying he was "disappointed and angry" and this statement did not reflect what he thought had been decided.
BBC News understands party whips have been endeavouring to contact Mr Ward.
A Lib Dem spokesman said it was "very disappointing that David seems to be refusing to acknowledge his mistakes".
Mr Ward was unavailable for comment on Monday evening.
In his statement he said he had not been shown Mr Carmichael's statement following last week's meeting, and had therefore not agreed to its contents.