Pryce retrial jury retires to consider verdict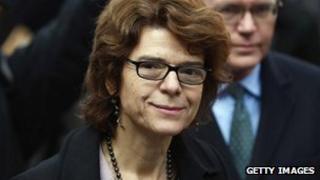 The jury in the retrial of Vicky Pryce, the ex-wife of former Lib Dem cabinet minister Chris Huhne, has retired to consider its verdict.
Ms Pryce denies perverting the course of justice by taking speeding points in 2003 from her former husband, claiming he coerced her into doing so.
Huhne, 58, who resigned as an MP, has already admitted the same offence.
The jury in Ms Pryce's original trial was discharged by the judge after failing to reach a verdict.
Shortly before asking the South Crown Court jury to begin considering the verdict, the trial judge Mr Justice Sweeney told the jury of seven men and five women that there was "no pressure of time".
He added they should elect a foreman and listen to each others' views in order to come to a "true verdict".
Driving ban
Huhne and Ms Pryce, 60, from Clapham in south London, were charged last year over the incident in March 2003 when his car was caught by a speed camera on the M11 motorway between Stansted Airport, in Essex, and London. He was an MEP at the time.
He already had nine points on his driving licence and risked being banned from driving, something he believed would damage his chances of election as MP for Eastleigh in Hampshire.
It is alleged that between 12 March and 21 May 2003, Ms Pryce falsely informed police she had been the driver of the car so he could avoid prosecution.
Ms Pryce told the court her then husband waved a pen at her and pressured her into signing a form confirming she was at the wheel at the time of the incident.
The court heard how Huhne lost his licence later that year anyway, for another driving offence.
Huhne resigned as an MP last month after pleading guilty to perverting the course of justice, and is likely to be sentenced following the outcome of Ms Pryce's trial.
'Fait accompli'
The former energy secretary left Ms Pryce in June 2010 after he had an affair with PR adviser Carina Trimingham.
It is alleged Ms Pryce then told the press about the speeding points in a bid to damage Huhne's political career.
The retrial heard evidence from Ms Pryce's brother George Courmouzis, who said he had known for more than a decade that his sister had been coerced into taking the points.
Jurors heard him describe the incident as a "fait accompli", after Huhne gave his ex-wife "no option" but to sign the form.
Mr Courmouzis, who lives in Greece and works in sports marketing, had not been asked to testify during the original trial.
The prosecution have claimed that Ms Pryce was a capable, manipulative and intelligent woman who acted of her own free will.
During the retrial, prosecutor Andrew Edis QC described Ms Pryce's decision to go to the media as a "calculated course of conduct that was disastrous for your family".
Ms Pryce claimed the ordeal left her "angry", "upset" and "practically suicidal".
The trial has been adjourned until 10:00 GMT on Wednesday, when the jury will return to continue its deliberations.