Castlebeck care homes go into administration following abuse scandal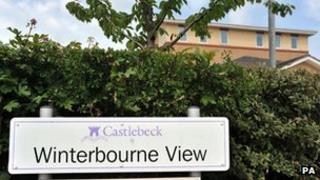 Castlebeck, the company at the centre of a BBC-exposed scandal into physical abuse and neglect at one of its care homes, has gone into administration.
Eleven care workers admitted a total of 38 charges last year after they were secretly filmed abusing patients at Winterbourne View near Bristol.
Administrators Grant Thornton have been brought in to manage the process.
All 214 residents across 20 UK sites will still receive care from Castlebeck while a buyer is found, says the firm.
In a statement, Daniel Smith, one of the company's partners, said the Winterbourne View home had been immediately closed after the abuse was revealed, with the company "promptly undertaking a root and branch internal review of its operations".
He said: "Whilst the board has focused on quality care provision and restoring confidence in the Castlebeck operations, the impact of two further unit closures in 2011 and reducing occupancy has significantly diluted Castlebeck's subsequent trading capabilities. "
'Operate normally'
The sale of the entire business to one purchaser was unlikely in the short term, the statement said, and the board had appointed an administrator.
"A number of prospective purchasers have already shown their interest in acquiring the individual Castlebeck operating units, which will continue to operate and trade normally whilst such sales are progressed, and new owners for the operating units emerge," Mr Smith added.
He said the company, which is based in Darlington, County Durham, was engaged in discussions with the care regulators, local authorities and other stakeholders regarding the administration processes.
Six out of 11 care workers were jailed after acts of abuse at the home, which looked after people with severe learning difficulties, were uncovered by BBC Panorama. Five others were given suspended sentences.
During five weeks spent filming undercover, Panorama's reporter captured footage of some of the hospital's most vulnerable patients being pinned down, slapped, dragged into showers while fully clothed, taunted and teased.
The judge, Judge Neil Ford QC said there was a "culture of cruelty" at the care home and if the abuse had not been uncovered by the BBC, it would have continued.
The hospital charged taxpayers an average of £3,500 per patient per week.