'Desert Rats' to lose tanks as Army cuts heavy armour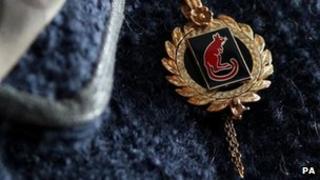 The Army's "Desert Rats" are to lose their tanks and become an infantry unit as part of defence cuts.
The Ministry of Defence (MoD) confirmed the move as part of government plans to reduce heavy armour by 40%.
The 7th Armoured Brigade, famed for crucial battles in the World War II, the Gulf War and second Iraq War, will instead be equipped with "protected mobility vehicles".
A former brigade commander has branded the move "immensely sad".
Speaking to the Daily Telegraph, Maj Gen Patrick Cordingley, who led the Desert Rats into Saudi Arabia in 1990 as part of Britain's initial ground contribution to the Gulf War, said: "Like the British public, I am extremely sad that they are losing their armoured role."
He added: "These are units whose history you would have thought might have spared them from this.
"I know the other armoured units can also claim to have illustrious histories of their own, but somehow over the years, the Desert Rats have become particularly important to the British public."
Created in Egypt in 1938 as the 7th Armoured Division it became known as the Desert Rats.
The brigade played a crucial role in the El Alamein battle in World War II , a victory which is often hailed as a turning point in the Allies' campaign in northern Africa.
After being disbanded in 1958, it was re-formed as the 7th Armoured Brigade, adopting the Desert Rat insignia.
For a short period leading up to 1981 it was re-named Task Force Alpha and went on to have prominent roles in the Gulf War and the 2003 Iraq war.
'Adaptable force'
A spokesman for the MoD confirmed the brigade will move from Germany to Chilwell in Nottinghamshire.
He said: "7 Brigade, including their 'Desert Rat' insignia, will remain in the Army's order of battle as an adaptable force brigade based in Chilwell.
"As announced in the Strategic Defence and Security Review, we are reducing our heavy armour by 40% and re-rolling units to face more modern threats.
"That is why the Desert Rats will in the future be an infantry brigade equipped with a range of protected mobility vehicles."
On Tuesday, the defence secretary Philip Hammond revealed that troops are to return from Germany earlier than planned, to be stationed at seven UK sites, including Salisbury Plain, Edinburgh and Leuchars, Catterick and Colchester.
Four army bases in North Yorkshire, Kent, Edinburgh and Pembrokeshire are to close.
He said the changes overall would save £240m a year in running costs, but the bill for the re-organisation would be £1.8bn.
The MoD is reducing the numbers of British service personnel in the Army from 102,000 to 82,000 in a bid to help plug a £38bn hole in the defence budget.
The number of reservist troops are to double by 2018 to 30,000, to help fill the gap.