Ministers reject offender drug tests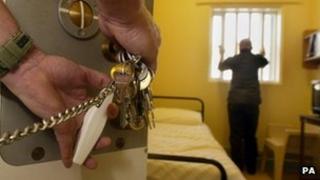 The idea of mandatory drug testing for all offenders when they arrive and leave prisons in England and Wales has been rejected by the Home Office.
The proposal was suggested by the Commons home affairs committee in December in a report on drugs policy.
In it, the committee highlighted a system of drugs de-criminalisation pioneered in Portugal.
The Home Office said compulsory testing would be an "additional" funding burden.
It also said it would lead prisoners to avoid a positive test by staying off drugs for the testing period only.
Official figures show that drug use in England and Wales is at its lowest rate under current measurements since 1996.
However, there is concern over the growth and prevalence of "legal highs", some of which are banned, amid a recorded rise in deaths linked to their use.
'Alternative approaches'
In its report, the home affairs committee called for a Royal Commission on UK drugs policy and said it was impressed with Portugal's approach to cutting drug use where people found with small amounts are not always prosecuted.
It also asked ministers to monitor the effects of cannabis legalisation in other parts of the world.
The Home Office confirmed that the coalition government had "no intention of decriminalising drugs", but said the crime prevention minister, Jeremy Browne, would study drugs policies across the world, looking at "alternative approaches" to tackling drug misuse and so-called "legal highs".
It also revealed that trading standards officers were exploring the use of the criminal law to combat legal highs that are marketed and sold as harmless substances.
Mr Browne said: "Drugs are illegal because they are dangerous - they destroy lives and blight communities.
"Drug usage remains at its lowest level since records began, with National Treatment Agency statistics published yesterday showing that the number of heroin and crack cocaine users in England has fallen below 300,000 for the first time.
"We have listened carefully to the recommendations made by the home affairs select committee and will shortly undertake an international study to gather evidence on successful approaches that other countries are taking."