Lord Coe receives award at palace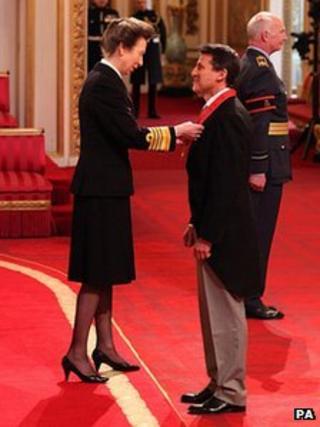 London Olympic chief Lord Coe has been made a member of the Order of the Companions of Honour.
He received the award at an investiture ceremony at Buckingham Palace hosted by the Princess Royal.
The former 800m and 1500m runner paid tribute to the "talented" people he said had made last summer's Olympics and Paralympics a success.
Paralympic wheelchair racer David Weir, who won four gold medals at London 2012, was awarded his CBE medal.
The Companion of Honour is a special honour given for service of conspicuous national importance and limited to 65 people at any one time.
Other recipients include scientist Professor Stephen Hawking, naturalist Sir David Attenborough and painter David Hockney.
Lord Coe, a two-time Olympic champion, took over the helm of London's bid to stage the Games in 2004 and successfully brought the event to the city.
Speaking after the ceremony, he said: "It's a lovely honour and I'm deeply flattered but it is really... recognition for the extraordinary work of so many people: our teams at Locog, the most talented, focused people I've ever worked with - passionate people - but also the people of Britain whose generosity of spirit helped get us across the line.
"The thing that always makes me most proud is the community effort that went into this, whether the teams at Locog or the armed services during the Games themselves, all our volunteers, our business and commercial partners - everybody played a part."
Lord Coe, who won 1500m gold at the 1980 and 1984 Olympics, later moved into politics.
He spent five years as Conservative MP for Falmouth and Camborne, becoming a party whip, and then chief of staff to former Tory leader William Hague. He was made a peer - Lord Coe of Ranmore - in 2002.
The world's most successful Olympic sailor Ben Ainslie, with four golds and a silver medal from successive Games, was knighted at Thursday's ceremony.
Olympic rowing champion Kath Grainger, who became an MBE in 2006, was recognised with a CBE for a memorable 2012 which saw her finally win Olympic gold, with double sculls partner Anna Watkins, after three successive silver medals.
Grainger, 37, Britain's most decorated female rower, said: "I thought that the gold medal meant everything but this is the icing on the cake.
"The Olympic medal is something you train for and it is realistic that you can get it, but something like this is bestowed on you and it is a great honour to get it."
All the honours had been announced in the Queen's New Year Honours list.