Queen to resume official engagements after illness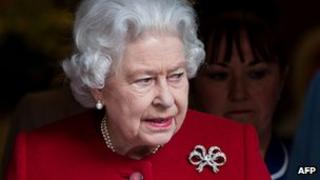 The Queen will attend a Commonwealth service and reception on Monday - her first public engagements since she was treated for gastroenteritis.
She will be joined by Prince Philip at a service at Westminster Abbey, followed by a reception at Marlborough House, central London.
There will be further engagements in London on Wednesday and Thursday.
The Queen, who left hospital on Monday, cancelled a visit to Rome planned for this weekend.
She had missed a military ceremony in Swansea to mark St David's Day on Saturday because of the stomach bug.
On Sunday, she was driven to London's King Edward VII hospital from Windsor Castle, where she had been resting after carrying out a private medal presentation earlier in the day.
'Good health'
Buckingham Palace said she was taken in as "a precautionary measure" and was otherwise in "good health".
It was her first hospital stay since 2002 when she was treated at the same hospital for a minor knee operation and had minor, non-cancerous lesions removed from her face.
The Queen and Prince Philip had been due to spend two days in Rome this weekend, at the invitation of Italy's President Giorgio Napolitano. It is not clear whether the visit will be rescheduled.
A reception at Buckingham Palace on Tuesday for MPs and MEPs went ahead with other members of the Royal Family present.
On Wednesday, she will be joined by the Duke of York in east London to visit the offices of creative agency Mother and business social network site Yammer.
A day later, she will attend a service at the Guards Chapel with the Duke of Edinburgh to commemorate the 175th anniversary of the Soldiers' and Airmen's Scripture Readers Association.
Gastroenteritis causes inflammation of the stomach lining and intestines.
The infection can be transmitted through contact with an infected person or contaminated food and drink. Symptoms can include vomiting, fever and stomach ache.