Further tests after 'horse DNA' find in beef products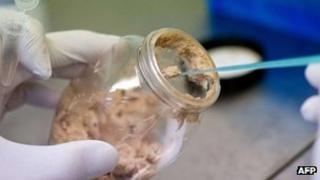 Preliminary tests have found six new beef products that may contain horse DNA, the Food Standards Agency says.
The checks were conducted by local councils following the earlier recalls of supermarket and caterer meat products containing horsemeat.
They also found three beef products with pig DNA above a 1% threshold.
The FSA has lifted its suspension of the Peter Boddy slaughterhouse in Todmorden, West Yorkshire, raided in the wake of the horsemeat scandal.
The company denied any wrongdoing after FSA officials attended the site last month as part of its inquiry into the alleged mislabelling of horsemeat.
In a statement, the FSA said it "has now decided to lift the suspension of the approval of this slaughterhouse, which means it will once again be allowed to operate".
Further checks
The FSA has requested that local authorities test minced beef products and ready meals sold at shops, wholesalers and catering suppliers for horse and pig DNA above a 1% threshold.
It said 212 out of 224 samples on minced beef-based products had tested negative.
It said further tests will now be carried out on seven samples taken from the six beef products that may contain horse DNA, as well as on three products suspected of containing pig DNA.
The three products confirmed to contain levels of pig DNA are Asda's spaghetti and meatballs and beef cannelloni and a beef lasagne from local authority supplier Apetito.
Both Asda products have already been withdrawn from sale and Apetito has indicated that while almost all of its product will have been served, any unused stock can be returned. None are said to be a health risk.
In a statement, the FSA said: "So far, no products are verified as containing horse DNA at a level above 1%.
"Preliminary tests show that seven samples, representing six different products, may contain horse DNA above 1% and a further three may contain pig DNA above 1%.
"However, further checks are needed to verify this. Where levels over the 1% threshold are confirmed, the FSA will publish details as soon as this information is received."
It said full details of all the tests being conducted by local authorities are due to be published in a report next month.
Meanwhile, inspectors have stopped meat production at a plant in Poland run by a firm that exports to the UK. Viola denies claims that it was adding rotten meat to its products at the plant in the northern village of Lniano.