Abu Qatada detained over alleged bail breach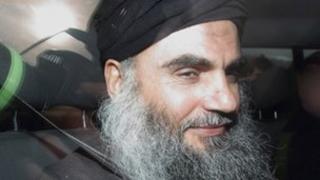 Radical cleric Abu Qatada is to remain in custody following an alleged breach of his bail conditions.
Mr Justice Irwin has ruled he must return to Belmarsh prison following his arrest by UK Border Agency officials on Friday, the Judicial Office said.
The decision was made during an urgent Special Immigration Appeals Commission (Siac) meeting by phone on Saturday.
Siac heard that he may have had prohibited communications equipment at his London home while he was present.
The detention comes days before a government bid to have Abu Qatada deported to Jordan to face terror allegations.
On Monday, the government will go to the Court of Appeal in a bid to overturn a judge's decision to allow Abu Qatada to stay in the UK.
Mobile phones
He was arrested on Friday following a day of raids in London by counter-terrorism police.
Abu Qatada's strict bail conditions include only being allowed out of his house between 08:00 and 16:00, having to wear an electronic tag, and being restricted in who he meets.
Our home affairs correspondent, Tom Symonds, said Abu Qatada is thought to have breached condition 10 of his bail agreement, concerning the use of communications equipment at his home.
He is alleged to have used, or switched on, mobile phones at his house and or to have allowed rewritable CDs or memory sticks to be brought there, according to court papers.
Our correspondent said there is "a strong prima facie evidence" that a breach of the order, granted on 13 November 2012, had taken place.
There will a further hearing before Siac on 21 March.
Earlier, a Home Office spokesman said: "The UK Border Agency arrested a 52-year-old man from north London for alleged breaches of his bail conditions imposed by the Special Immigration Appeals Commission (Siac)."
Searches of properties, which began on Thursday, have now finished, according to a Metropolitan police spokesman.
Four properties - two residential addresses and a business address in north-west London, and a residential address in west London - have been searched and no hazardous materials have been found, he said.
No arrests have been made in connection with the counter-terrorism operation.
Abu Qatada has been found guilty of terrorism offences in his absence in Jordan, where he faces a retrial for allegedly conspiring to cause explosions targeting Western and Israeli targets before the year 2000.
But Siac ruled Jordan had not proved Abu Qatada's retrial would be free of evidence obtained by torture.
Home Secretary Theresa May will challenge this decision in front of three Court of Appeal judges led by Lord Dyson, the Master of the Rolls, on Monday.
Abu Qatada, 52, was granted bail following the decision by the Siac judges in November last year and released from Long Lartin prison in Worcestershire.
Lucy Scott-Moncrieff, president of the Law Society, told the BBC his arrest and Monday's appeal are "two completely separate issues".
"The court on Monday are not going to be making a decision about Abu Qatada. They're going to be making a decision about the likelihood of him getting a fair trial in Jordan. And of course that's got nothing to do with whether he's breached his bail conditions here," she said.