Newspaper review: Councillors 'for hire' for planning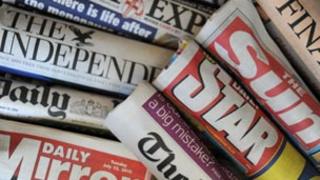 The Daily Telegraph reports that councillors are offering themselves for hire to property developers, to advise them on how to take advantage of soon-to-be relaxed planning laws. The practice is legal.
One councillor is quoted as saying that he charges up to £20,000 for his service. According to the paper, he says: "If I turn a green field into a housing estate, I ain't doing it for peanuts."
Several of the papers picture a Falkland Islander, wearing a suit decorated with union flags, as he casts his vote in the referendum on whether the islands should remain a British territory.
The Guardian carries an article by the Argentine ambassador to the UK, Alicia Castro.
She says Britain is alone if it thinks the referendum will decide the dispute. She says all countries in the region recognise that the islands are Argentinian, and not what she calls a "colonial enclave".
Child care
The Guardian reports that six investigations are being carried out into the way South Wales Police handled domestic violence, rape and sexual assault complaints.
One woman says she reported her partner, a police officer with the force.
She says his colleagues told him about her allegations of domestic violence, putting her at further risk. South Wales Police responded, saying it has introduced measures to make sure incidents are properly managed.
The Daily Mail sounds a warning for working parents, issued by a Swedish researcher.
Jonas Himmelstrand says Sweden's generous childcare provision has led to children spending long hours in nurseries.
He says Swedish schools have among the highest truancy, classroom disorder and damage to property of all comparable nations.
Mr Himmelstrand is urging British politicians to make the tax and benefit system favour those who stay at home to bring up children.
Foreign charges
Airlines are repeatedly flying their planes with dangerously low levels of fuel, an investigation in the Sun reveals.
The problem has caused 224 "safety incidents" in the past four years.
The paper says pilots are under pressure from employers to save money by flying with minimum fuel.
"There'll be huge bills over the White Cliffs of Dover," says the Daily Telegraph.
It refers to a problem faced by tourists and residents of the village of St Margaret's at Cliffe in Kent, who are hit with international charges on their mobile phones - because they're so close to France.
The Daily Mail says one resident's wife accused him of having a French mistress because of the foreign charges on his phone bill.
Pipe cleaner
"If you thought heart attacks and strokes were the consequence of modern diets and lifestyles, think again," says the Times.
A study of more than 100 mummified bodies shows more than a third had signs of hardened arteries.
The findings suggest that humans might simply be predisposed to the condition.
Bagpipes could be bad for your health, according to the Times.
John Shone, an expert in classical piping, contracted a life-threatening illness from fungal spores lurking in the instrument.
Mr Shone said he had not cleaned the pipes for 18 months, as he was preparing for a concert and they were "going well".
He has since recovered, and is still playing.