Iraqi detainees beaten, inquiry told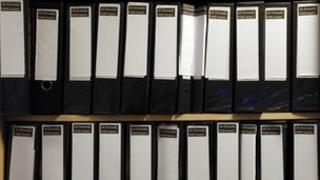 Allegations of abuse, torture and unlawful killing by British soldiers of detainees in Iraq in 2004 have been outlined at a public inquiry in London.
The Al-Sweady Inquiry is examining claims following the Battle of Danny Boy in Maysan province, southern Iraq.
Patrick O'Connor QC said the abuse included detainees being kicked in the head while they were helpless, beatings and strip searches.
The Ministry of Defence claims there was no mistreatment.
In his opening statement, Mr O'Connor claimed the detainees also suffered abuse once in their cells, sleep deprivation, mock executions and violence while being escorted to and from interrogations.
The barrister, who is representing nine Iraqi survivors and bereaved relatives of people who died on the battlefield, said: "These are not matters of individual spontaneous misconduct. They are planned, calculated and trained abuses by branches of the state."
Tactical questioning
It is alleged Iraqis were unlawfully killed at Camp Abu Naji (CAN) on 14 and 15 May 2004.
It is also alleged that five Iraqi detainees were tortured and ill-treated at the camp and at a detention facility at Shaibah Logistics Base between 14 May and 23 September 2004.
Mr O'Connor said that all nine detainees had said they had been "kicked in the head when they were defenceless" and complained of being beaten when being transported to CAN with "blows to enforce silence".
The shock of capture was maintained through rough handling, it was claimed, and strip searches were carried out which would have had a "strong psychological impact on the Iraqis". They also suffered medical neglect at CAN and oppressive or tactical questioning, it was claimed.
The inquiry heard various witnesses described hearing shouting, the banging of a metal pole, sobbing, crying and the sound of tables being overturned and chairs being thrown.
The banging of the metal pole was a "shock tactic and would play on the detainee's mind," it was suggested, while there was sleep deprivation and water squeezed into their mouths so they choked and could not drink, it was alleged.
Mock executions were used as a part of a "calculated and sinister regime to break down these detainees", Mr O'Connor claimed.
The Ministry of Defence has vigorously denied all the allegations, saying any deaths happened on the battlefield.
Document trawl
The inquiry, named after one of the dead men, 19-year-old Hamid al-Sweady, is the second public inquiry into allegations of abuse by British troops in Iraq, following one that examined the death in 2003 of Baha Mousa.
Three years have passed between the setting up of this inquiry and its opening as staff, including retired detectives, have trawled through as many as 12,000 documents.
It has already cost £15m, and that figure is expected to double, with as many as 200 military witnesses likely to be called and 45 Iraqis expected to give evidence by video-link from Beirut, including medical staff and ambulance drivers.
Fifteen Iraqi witnesses are due to give evidence in person, among them the nine detainees and family members of the dead.
The inquiry is being chaired by retired High Court judge Sir Thayne Forbes and is set to last a year.