Snow disruption: Your stories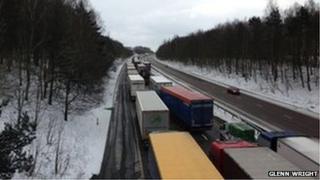 Heavy snow is causing severe travel disruption across parts of the UK.
Many people were stranded in cars overnight and motorists faced problems getting to work this morning.
BBC News website readers share their stories of how the bad weather has affected them.
Sarah Paramour, Leatherhead, Surrey
I got married to Duncan Busbridge at the weekend and was due to go on honeymoon to Jersey today. Of course, because of the weather problems, my husband and I have not been able to get there.
Yesterday morning, the day after the wedding, someone asked us if we had seen the news and told us that Jersey airport was closed. We were disappointed, but hopeful the weather disruptions would blow over.
It only hit us this morning that we weren't actually going to get there. We checked Jersey airport's website as soon as we got up and all flights were cancelled.
We've spent the day trying to salvage some of the money we spent on flights, the hotel and travel insurance.
Fortunately, we managed to get a full refund for our flights, but because we booked a deal with the hotel, we only have until the end of the month to reschedule our stay.
It's put a bit of a downer on the week, but we've booked a a spa hotel to stay in tonight and hopefully we can get there without any problems.
On the upside, at least we are not stuck in Jersey unable to get home.
Daniel Satchell, Brighton
I set off for home from Bolney, the village where I work, back home to Brighton at about 5:30pm. If I'd have left work 20 minutes earlier I probably would've been OK, but I was driving for about five minutes down the carriageway when we ground to a halt.
After nearly four hours I thought enough is enough so I moved the car into a lay-by and decided to start walking the final nine miles back to Brighton.
I finally got home at 10:15pm. It was quite a strange experience walking down an empty road. I'm glad I did walk though after seeing all the reports of people sleeping in their cars.
I went back to get the car this morning and the road has cleared and the sun is shining.
Tom Garner, Lambourn, Berkshire
I was five hours late for work today after spending all night stranded due to snow.
My friend and I were driving back from Plumpton as we are jockeys and had been racing there.
We left Plumpton at 5.30pm yesterday and were stuck on the A23 for most of the night. We arrived home at 09.30 this morning.
The snow didn't seem too bad at first, but the roads weren't gritted and after a while the problems started. Cars were sliding all over the place.
We were fairly lucky though as we were near some services and managed to get something to eat. I feel sorry for the people by themselves.
Darren Boyle, London
I was at St Pancras station this morning, due to get on the 07:01 Eurostar train to Paris. I was due to meet a friend in Paris, then head to Munich for the Arsenal game tomorrow.
Unfortunately the train never left, and we were told that the French rail network had collapsed.
We were informed that journeys had been suspended for the time being and passengers were advised to rebook trains. But there was never a message saying that trains were completely cancelled.
There were still people going around selling tickets to passengers for the Paris metro.
Luckily, my brother managed to get me booked on a flight from Luton airport direct to Munich this afternoon.
I am frustrated at the general ineptitude shown by Eurostar and their audacity to send me a text message later asking about their customer service.
Amanda, Brighton
My journey home from work took 13 hours. It usually takes me 45 minutes.
The worst part of the journey was the stretch between Pease Pottage and the climb up Handcross Hill. It was stop-start all the way and there was no chance to get any sleep as I couldn't tell when we'd next be on the move.
Nobody came to let us know what was going on and there was an appalling lack of help.
People were falling asleep in their cars and other drivers had to go and wake them up when cars started to move again. I even heard on the radio that a woman went into labour while stuck and that the ambulance took 90 minutes to arrive.
I had water in the car and was relatively prepared although the only food I had was low-fat puppy treats. I'm a vegetarian so I didn't attempt to eat any.
The roads were still bad outside Brighton so I had to park the car two miles away from home at 06:00 and I then walked the rest of the way.
Patrick Barber, Chellaston, Derby
It's not only people in the UK affected.
My 15-year-old daughter left home at 05:30 yesterday to make a coach trip to Normandy. She was visiting as part of her GCSE French course.
My wife and I said it was daft to go because of the weather.
Since she left, we received various texts from our daughter. At 09:30 on Monday she said she was stuck on the coach, we then got a text to say she was completely stranded somewhere in France and that they couldn't find a service station or get any accommodation sorted for the night.
She also said the road conditions were dangerous and that she was scared.
We got another text from her at 22:00, where she said: 'We're sleeping on the coach tonight, brilliant.'
The school then sent a text saying they were trying to find accommodation. Then they said that the coach would turn back and make its way home, but at 10:40 this morning the roads were closed.
The travel company is now trying to find alternative accommodation as soon as possible.