Chris Huhne and Vicky Pryce case 'like being in stocks'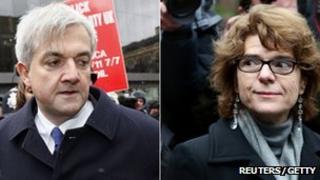 A friend of the jailed former cabinet minister Chris Huhne and his ex-wife Vicky Pryce has said their experience was like "being in the stocks".
They spent their first night in prison after being jailed for eight months for perverting the course of justice.
Liberal Democrat MEP Chris Davies said they faced difficulties from being the "best-known prisoners in the place".
Huhne admitted asking Pryce to take his speeding points in 2003 and Pryce was convicted of having agreed to do so.
Pryce, 60, went to a newspaper with the story after their marriage broke up.
The judge said Huhne, 58, had fallen from a "great height" but any tragedy was their "own fault". Their first full day in prison coincidentally falls on the 10th anniversary of the original speeding offence.
Mr Davies told BBC Radio 4's Today programme: "The difficulty for Chris is he's so much in the public spotlight, for Vicky and for him it's not just going through a court case, having to live with the sentence and the punishment. But it's having been in the stocks for such a long period of time, on the front pages of newspapers.
"They wake up not just having a sentence to serve in prison but as the best-known prisoners in the place and having to go through all that - the difficulty of catcalls and the like."
Betrayed wives
Journalist Yasmin Alibhai-Brown, a friend of Pryce, said she thought the media's treatment of her had been sexist.
"Too many people haven't realised how the loss of love, her wiring was jumbled, the storms in her heart were flooded," she said.
"She is the most extraordinarily gifted, sane, stable woman, but love unhinged her. It was just 'why didn't she go away quietly?' This society has no time for raging betrayed wives."
Sentencing the pair, the judge said that unless they were released earlier under supervision, they would each serve half of their eight-month sentences.
Huhne resigned as energy and climate change secretary when he was charged with perverting the course of justice, and then quit as the Lib Dem MP for Eastleigh after pleading guilty.
Huhne told Channel 4 News ahead of sentencing that his actions had spun into a "massive, devastating set of consequences for family, for career and for everything".
"I certainly lied and lied again, and part of it was about saving my career but it was also partly to try and avoid the consequences for my family," he said.
The former couple were charged last year over an incident in March 2003 when Huhne's BMW car was caught by a speed camera on the M11 between Stansted Airport in Essex and London. He was an MEP at the time.
The prosecution said that between 12 March and 21 May 2003, Pryce had falsely informed police she had been the driver of the car, so Huhne would avoid prosecution.
He was in danger of losing his licence having already accrued nine penalty points.