Racing pundit John McCririck taken ill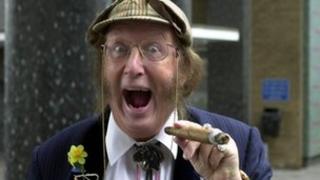 Racing pundit John McCririck has been taken to hospital after falling ill at the Cheltenham Festival, officials at the course have said.
McCririck, 72, was taken by ambulance to Cheltenham General Hospital, where he is said to be in a stable condition.
The veteran broadcaster later told the Guardian newspaper website he had "felt faint and woozy".
McCririck will be kept in overnight, but his agent said: "John fully intends on being back on the course tomorrow."
Known for his gold jewellery, sideburns and deerstalker hats, McCririck has covered betting for 31 years, first on ITV then Channel 4.
Legal action
McCririck was dropped as a pundit for Channel 4 Racing when the broadcaster unveiled its new presenting team, headed by Clare Balding.
He accused the broadcaster of dropping him because of his age and earlier this year said he would take legal action.
He claimed he had been sacked "without any consultation" and is seeking £3m for loss of future earnings, "stress and mental anguish". The station said it would be "vigorously defending this claim".
McCririck appeared on Celebrity Big Brother in 2005 and Ultimate Big Brother five years later. He also appeared in Channel 4's Wife Swap.
A spokesman for the hospital said: "We are aware that John McCririck has been admitted and his condition is stable."