Elveden: Former Sussex policeman faces misconduct charge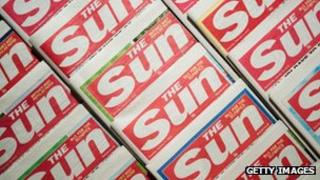 A former policeman has been charged with receiving payments for information from the Sun newspaper, the Metropolitan Police has said.
James Bowes, 30, who was a sergeant with Sussex Police, is accused of misconduct in a public office.
He is alleged to have provided information to the newspaper about three high-profile investigations for £500 between 9 April and 20 July 2010.
Mr Bowes will appear before Westminster Magistrates' Court on 26 March.
Alison Levitt QC, principal legal adviser to the Director of Public Prosecutions, said a "careful review of the evidence" had been completed, leading to the decision to charge the former police sergeant.
"The charge relates to allegations that Mr Bowes provided details to the newspaper about three high profile investigations being conducted by Sussex Police at the time," she said.
Mr Bowes, of Steyning, West Sussex, was arrested as part of Operation Elveden, the Metropolitan Police's investigation into corrupt payments to public officials.
More than 60 people have been arrested as part of the inquiry, which is being run alongside two other police investigations.
Operation Weeting is an inquiry into alleged phone hacking, while Operation Tuleta is an investigation into computer hacking and other privacy breaches.