Newspaper review: Papers look ahead to the Budget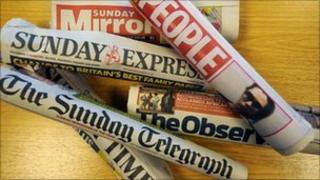 Ahead of the Budget, the government's handling of the economy provides plenty of discussion in Sunday's newspapers.
Chancellor George Osborne uses an article in the Sun to defend his economic strategy, saying that to turn back now would be a disaster.
He promises that in the Budget, he will set out how the country is going to recover, and writes: "Above all, I will prioritise helping people like you... who want to work hard and get on in life."
However, in the Mail on Sunday, the Conservative peer Lord Ashcroft warns the chancellor that he must offer voters more than just austerity.
He needs to communicate a clear plan for creating jobs and wealth, he says.
The Sunday Mirror introduces a note of nostalgia over how things used to be in the run-up to a budget.
"Do you remember the good old days," it says, "when we worried about beer going up to 25p and petrol to one pound a gallon?"
The Sunday Express leads on a Which? report which suggests families have cut spending by more than £3,000 a year since the start of the credit crunch.
Under the headline "Crisis as we all stop shopping", the paper says the chancellor is under extreme pressure to kickstart growth in his budget.
Meanwhile, the Sunday Times says families are facing "the worst energy squeeze yet" as power companies prepare to extract record profits from every home in Britain after hiking up gas and electricity bills.
'Boris camp'
On the eve of the Commons debate on press regulation, Labour leader Ed Miliband, has given an interview to the Observer in which he calls on MPs to "do their duty" for the victims of media intrusion.
He tells the paper that, for too long, politicians have been scared of acting against powerful media magnates who have the capacity to destroy careers and wreck governments.
However, according to the Sun, anti-censorship crusaders across the world have warned that Britain's long, proud status as a beacon of press freedom is under threat.
A group called the World Press Freedom Committee has apparently said any legislation to regulate the British press would have a "chilling effect on robust journalism".
The Sunday Telegraph reports that Sir Peter Tapsell has become the first Conservative MP to state that he would be prepared to give up his safe Commons seat to let Boris Johnson return to parliament.
The paper says 83-year-old Sir Peter made the "frank admission" that he was "keeping his seat warm for Boris" to Mr Cameron personally, in remarks overheard by several Tory MPs.
Speaking to the Telegraph, Sir Peter denies he is part of any "Boris camp" but adds the London mayor would be an "excellent" opposition leader and "perhaps" a good prime minister.
'Catastrophically flawed'
Lord Prescott uses a column in the Sunday Mirror to reflect on the 10th anniversary of the invasion of Iraq.
"Given the benefit of hindsight, was it right to invade?" he asks. "I now have to say no."
"Ten years on, there is a sad acknowledgement on my part that we paid a terrible price in loss of lives, for which I must accept my share of responsibility.
"We must learn from this," he writes. "But will we, with Syria and Iran?"
According to the Independent on Sunday, Education Secretary Michael Gove's flagship project has been dealt an embarrassing blow after Ofsted ruled that three of the seven free schools it has inspected so far were "not good" and needed to improve their teaching, leadership and pupil performance.
The paper calls it the first "official verdict" on the programme.
The Mail on Sunday says there is irrefutable evidence that official predictions of climate warming have been "catastrophically flawed".
Its story says councils across the UK, duped by bad science, are spending millions of pounds on officials to fight global warming while making sweeping cuts to services.
Archbishop's drink fears
The Sunday Times reports that civil servants in the health department are to be sent on work placements to hospitals, surgeries and old people's homes.
Two thousand officials will apparently be ordered to leave their desks to see how patients are treated.
Danny Nightingale, the SAS sniper jailed for possessing a gun and ammunition brought back from Afghanistan, has been speaking to the Sunday Telegraph and expresses gratitude to the paper for highlighting his plight.
He denies any wrongdoing and the Court of Appeal has now overturned his conviction and ordered a retrial.
The Sunday Times magazine has what it says is the first interview with the new Archbishop of Canterbury Justin Welby, who will be enthroned on Thursday.
He reveals that he fears following his father into alcoholism. He says he has an agreement with his wife, Caroline, to keep an eye on his drinking and has rules, such as never drinking alone.