PCS union stage Budget day strike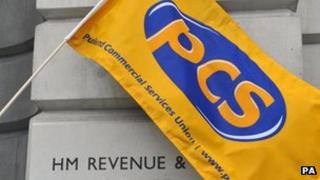 Civil servants are staging a strike over pay and pensions to coincide with Budget day.
The Public and Commercial Services union says tens of thousands of its members have walked out at government departments, job centres, tax offices and airport border controls.
The PCS, which has begun a three-month campaign of action, says ministers have refused to negotiate over cuts.
Cabinet Office Minister Francis Maude said the strike was "futile".
He said fewer than 95,000 staff members had taken part in the industrial action, which he said had achieved only a "minimal impact" on services.
A rally was held by the Public and Commercial Services (PCS) union in Westminster to coincide with the chancellor's Budget speech.
Picket lines have been mounted outside government offices, museums, galleries and the Houses of Parliament.
PCS members handed out leaflets which said the dispute was the most serious ever faced by the union.
"We must take action to force the government to negotiate," said one of the pickets.
The PCS has also called a half-day strike on 5 April as part of its three-month campaign.
The trade union said the strike had affected business in the Welsh Assembly and closed museums in parts of the country.
Border patrols and courts are also thought to have been affected.
PCS members - who include customs, immigration, benefits and Jobcentre staff - want a 5% pay rise, or £1,200.
A campaign against tax avoidance and evasion is also at the heart of the action.
'Savage attack'
PCS general secretary Mark Serwotka said it was not a one-day protest but "the start of a rolling programme of walkouts and disruptive action to put pressure on a government" which he said was refusing to talk to the trade union.
He said: "Civil and public servants are working harder than ever to provide the services we all rely on but, instead of rewarding them, the government is imposing cuts to their pay, raiding their pensions and trying to rip up their basic working conditions."
Unite members at the Homes and Communities Agency (HCA) have also taken industrial action over pay.
"Our members at HCA are showing solidarity with their HCA colleagues in PCS against the savage attack by the coalition on public services and those dedicated staff that deliver them," said Unite's general secretary, Len McCluskey.
Earlier, Mr Maude said the strike was "futile, counterproductive and irresponsible".
"The public will have been inconvenienced to a very small extent by the strike today," he said.
"The borders at the airports and ports have been properly manned, queues have been minimal and I am delighted to say that at Birmingham airport alone there have been significant seizures of illegal drugs, to the benefit of protecting the public."