Ronnie Biggs attends Bruce Reynolds' funeral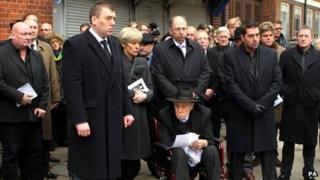 Ronnie Biggs has attended the funeral of Bruce Reynolds, the key planner behind the £2.6m Great Train Robbery in 1963.
He died on 28 February aged 81 after a period of ill health, and his funeral took place in the City of London.
Reynolds evaded capture for five years, mainly spent overseas, but after returning to England he was caught in 1968. He spent 10 years in jail.
Biggs described him as a "good man" in a tribute read out on his behalf.
The gang targeted a Glasgow-to-London overnight mail train and escaped with a then-record haul of £2.6m, equivalent to £40m in today's money.
Reynolds had used inside information on mail movements to plan the raid, on 8 August 1963, in which 15 gang members, wearing helmets and ski masks, made off with 120 bags of money.
Train driver Jack Mills was struck over the head during the robbery and never worked again. He died in 1970.
'Great adventure'
During Wednesday's ceremony, a tribute from Biggs was read, which said: "Bruce was a true friend, a great friend. A friend through the good and the bad times, and we had many of both.
"He was a good friend to me and my family. My thoughts are with Nick, his son."
He said Reynolds had "set him off on an adventure that was to change my life", adding: "He was a good man."
A tribute from Gordon Goody, Reynolds' deputy in planning the robbery, was also read. He said: "Whatever Bruce did - and he did a lot - his driving motivation was for the betterment of his family."
During the funeral, his son Nick Reynolds and his band Alabama 3 performed their song Too Sick To Pray, while John Cooper Clarke read out a poem he wrote after Reynolds' death.
Tributes were also given by Sky News crime correspondent Martin Brunt, actor David Thewlis and novelist Jake Arnott.
After the service at St Bartholomew the Great Church, Reynolds' coffin was placed in a hearse, to be taken to the West London Crematorium.
Buster
Reynolds, the son of a trade union official at the Ford plant in Dagenham, east London, left school at 14 and worked as an accounts clerk, hospital laboratory assistant and cycle fitter.
It was not long before he was in trouble with the police and he was sent to borstal twice for theft.
After national service, he returned to a life of crime and served four jail terms, mainly for breaking into shops.
In 1963, he joined forces with Biggs, Buster Edwards, Charlie Wilson and other gang members to carry out the Great Train Robbery.
Following Reynolds' release from prison in 1978, life proved a struggle and he was jailed again in the 1980s for three years for dealing amphetamines.
In the late 80s he worked briefly as a consultant on a film about the robbery, Buster, and went on to publish the Autobiography of a Thief in 1995.
By then, he was living on income support in a south London flat supplied by a charitable trust.
Meanwhile, Biggs was originally given a 30-year sentence for his part in the heist but escaped from Wandsworth prison, south London, in a furniture van after spending 15 months in jail.
He was on the run for more than 30 years, living in Spain, Australia and Brazil before returning to the UK voluntarily in 2001 seeking medical help but was sent to prison.
He was released on compassionate grounds in 2009 after falling severely ill with pneumonia.