Al-Sweady Inquiry: British troops beat me, says Iraqi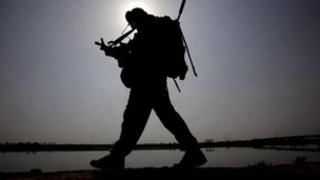 An Iraqi detainee was beaten and threatened by British troops, and left fearing he would be tortured and executed, he has told a public inquiry.
Mahdi Jassim Abdullah al-Behadili told the Al-Sweady Inquiry he was subjected to humiliation and sleep deprivation.
The inquiry is examining claims that British soldiers mistreated and killed detainees after the so-called Battle of Danny Boy in Iraq in 2004.
The MoD denies the claims, insisting the dead were killed in battle.
'Dragged out'
Mr al-Behadili, 26, told the inquiry on Wednesday he was repeatedly hit and threatened with a metal tent pole, and that he thought British troops were "out to kill us".
He said he was irrigating fields on 14 May 2004 when he heard gunfire and threw himself to the ground where he stayed until he heard military armoured vehicles approach.
Mr al-Behadili described two soldiers approaching him, being hit and losing consciousness, and waking up handcuffed, blindfolded and face down on the ground.
He said he and other Iraqis were thrown into an armoured vehicle and taken to Camp Abu Naji.
Speaking through an interpreter, Mr al-Behadili told the inquiry: "I was removed out of the vehicle. Violently, I was dragged out.
"After they walked me around they hit my head on the wall. After I was hit in that manner I was unconscious and I didn't know what happened afterwards."
He said he was kept in a cell and made to sit on a chair in between being interrogated twice in a separate tent.
"While sitting on the chair every now and then they would come and hit me. On my head, they were slapping me," he said.
"I felt they were out to kill us. From the way they treated us and the violence you wouldn't think otherwise. I would never think they would have any mercy on us."
'Bang on door'
Mr al-Behadil said that the next morning he other Iraqis were taken by helicopter to Shaibah Logistics Base and were again beaten during the journey.
He said he was taken to a cell he shared with four other Iraqis but they were not allowed to sleep.
"All night long somebody would come every hour, or every half hour, to bang on the door and shout," he said.
He said he told the Royal Military Police that nobody had been violent to him because other Iraqi prisoners said if he claimed he had been mistreated, they would "get him back".
It is alleged that Iraqis were unlawfully killed at Camp Abu Naji, near Majar-al-Kabir, on 14 and 15 May 2004, and detainees were ill-treated there and at Shaibah Logistics Base where they were held for four months.
The inquiry, at Finlaison House in central London, was adjourned until Thursday.