Wintry weather: Your stories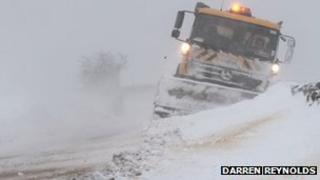 Power and transport supplies have been disrupted due to adverse weather conditions in much of the UK.
Snow, sleet and rain have closed a number of roads and airports.
A Met Office yellow weather warning, urging people to be aware of adverse conditions, covers most of England.
BBC News website readers have been sharing their experiences of the unseasonal conditions.
Linda Cartledge, Coedpoeth, Wrexham
Elizabeth Guy, Wensleydale, North Yorkshire
I work as an estate agent and my partner is a farmer.
Not once have farmers been mentioned - we are in the middle of lambing, and often out looking after flocks in horrendous weather conditions.
Late on Friday night we had to search for a missing flock as the snow had drifted over the top of the walls.
We thought the sheep were buried, but thankfully, they had taken their lambs to safety behind a drift.
It's now stopped snowing but it's still very windy.
Clare Owen, Cilcain, near Mold
My family and I have been cut off by the snow and have been without power since Friday.
I have four children aged from six to 15 including a disabled son.
Normally, we would rely on a lift and hoist to move my disabled son around but as we're currently without power, my eldest son who is 15 has to help me as I'm recovering from an operation. My husband is currently away but is due back home on Sunday.
People in our village are trying to clear snow from driveways and cars but are fighting a losing battle.
However, the adverse weather has boosted the community spirit as villagers are visiting each other. Not everyone has a heater so we are keeping warm together.
I have a camping gas heater so at the moment my neighbour and her son are staying with me.
I've tried to find out when power will be restored but the company aren't able to give me any information.
Stuart Roy Taylor, currently in Stranraer
I am currently travelling on a coach service operating from Belfast to Milton Keynes.
After checking the company's website on Saturday morning and seeing that "no journeys had been cancelled" I boarded my coach with confidence that my journey would run smoothly.
However, on arrival in Stranraer via ferry, my coach of approximately 40 people, was told that there would be no chance of us travelling any further today and that we were to wait in Stranraer indefinitely until travel was possible.
No option of food or shelter has been mentioned at any stage.
Effectively, we are stranded here with little or no information and no food or shelter.
We are all in relatively good spirits, but the whole situation is a shambles.
Lisa Webb currently at Gatwick Airport, West Sussex
I planned to spend the weekend in Rome to see a rugby game.
I was hoping to fly out to Rome this morning but I'm currently stuck at Gatwick Airport.
Our flight was supposed to depart at 06:50 GMT.
The plane's wings are full of ice, and we have only recently had them de-iced.
The plane had to be refuelled too, as waiting on the runway meant we used a lot of fuel
Our pilot said staff at Gatwick has been very slow to react to the bad weather this morning, as only three de-icer trucks out were originally out.
Hopefully we'll be on our way soon and I won't miss the match.
Peter Slator, en route to Glasgow
My flight from Belfast to Glasgow on Friday was cancelled so I took the ferry instead as I had arranged to meet my father.
There was an announcement on the ferry that said all of the roads out of Stranraer were closed.
We were told to make our own way to the Ryan Leisure Centre from the ferry terminal.
When we got there, we were offered hot drinks and blankets, pillows and mats. They really looked after us. People were sleeping wherever they could find space, including the sports hall.
Right now I'm heading back up to Glasgow. I'm on the A77, near Girvan. There is light wet snow.
Stranraer is open but we are stuck in traffic. I can see as far as 200 metres in front of me but all vehicles are stationary.
Jenni Turnbull in Shiskine, Isle of Arran
I'm stranded in Glasgow having got as far as Brodick on the Isle of Arran yesterday afternoon.
It was windy and wet in Brodick and people were getting stuck on the main road, known as The String.
All of the roads to the west of the island were blocked, so I could not get home to Shiskine.
There's no power on the whole Isle of Arran, no mobile or landline so I cannot get through to my husband.
The Kinloch Hotel in Blackwaterfoot, Arran deserves a mention - they have had their own emergency generator for decades, and during power cuts they have really helped out.
They always open their doors to the whole community offering a place for a warm meal or just to be comfortable.