Rail franchising: Ministers to restart process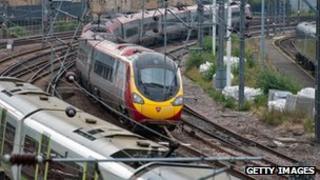 The rail franchising process is to restart, the government will say on Tuesday, six months after the collapse of the West Coast deal stopped it.
Ten of the country's 16 franchises are due for renewal before the general election, expected to be held in 2015, and a timetable will be set out.
Ministers will prioritise the East Coast line deal, BBC transport correspondent Richard Westcott says.
It has been in public hands since National Express gave it up in 2009.
It is thought other franchise contracts will be extended to give officials more time to deal with the process.
Rail franchising was put on hold last year after a decision to award the UK's multi-billion-pound West Coast Main Line rail franchise to FirstGroup was scrapped by the government.
The transport secretary found there were "significant technical flaws" in the bidding process because of mistakes by Department for Transport staff and three civil servants were suspended.
Virgin Trains, which was given the right to run the West Coast line for a further two years while the system is sorted out, is understood to be keen to bid for the new East Coast contract.
Its contract to run the West Coast is also expected to be extended by another two years.
Any new franchise deals will put the focus more on passengers' views and satisfaction, our correspondent added.