Horsemeat tests show no traces of painkiller bute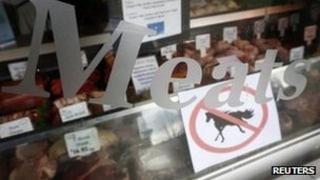 Results from the latest council tests show no traces of the veterinary drug bute have been found in any products contaminated with horsemeat.
However the results showed 10 out of 362 beef products had tested positive for the presence of horse or pig DNA.
Five had already been named and they include Asda beef cannelloni, Apetito beef lasagne and Ikea meatballs.
The results of the other five samples are being challenged and awaiting the outcome of further independent tests.
The Food Standards Agency (FSA) has requested that local authorities test minced beef products and ready meals sold at shops, wholesalers and catering suppliers for horse and pig DNA above a 1% threshold.
The UK-wide sampling programme was introduced after horsemeat was found in a number of processed beef products across Europe, raising questions about the complexity of the food chain.
Ongoing investigations, spanning many countries, are examining whether the substitution of beef for horsemeat was not accidental but the work of a criminal conspiracy.
Tests ongoing
More than 5,000 tests by councils have been carried out so far and these latest results confirmed the presence of pork in Asda Spaghetti and Meatballs, Asda Beef Cannelloni and Apetito Beef Lasagne.
A Whitbread burger and Ikea meatballs were confirmed as containing horsemeat. Both of these products have been previously reported by the food industry's own results.
All five products have already been withdrawn from sale.
Experts say horsemeat itself should be as safe as beef to eat, but there is concern that some horses are given the painkiller bute (phenylbutazone), which can be dangerous to humans.
The FSA website lists a range of products from 15 companies that have been found to contain horsemeat and which have all been tested for bute. None has come back positive but several tests are still ongoing.
The Whitbread burger tested negative for bute and test results on the Ikea meatballs have not yet come back.
Environment Secretary Owen Paterson said in a written statement that the FSA would next publish a summary of ongoing testing for horse DNA in processed beef products in early June, and would continue to report individual products testing positive above the 1% limit as soon as they were confirmed by the food industry.
'Deliberate substitution'
He added that although the short-term priority had been to focus on the deliberate substitution of beef with horse, "this does not mean that we have ignored the possibility of beef products containing undeclared pork or pig DNA".
"Consumers have a right to expect that all the food they are eating is correctly described. I recognise that even trace levels of pork contamination, below the 1% threshold, are unacceptable to some faith communities," he said.
"Where a product is labelled as halal and is found to contain traces of horse or pig DNA, the relevant local authority will investigate each case and take steps to ensure that consumers are informed."