Former officer appears on Operation Elveden charge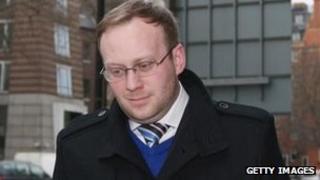 An ex-police sergeant has appeared at Westminster Magistrates' Court charged with selling information to The Sun.
James Bowes, 30, from Steyning, West Sussex, is accused of passing details of three high-profile investigations in 2010 in return for £500.
He worked for the neighbourhood policing team of Sussex Police.
Mr Bowes was charged as part of Operation Elveden, Scotland Yard's investigation into alleged corrupt payments to public officials.
The charge alleges that between 9 April and 20 July 2010 he "without reasonable excuse or justification, wilfully misconducted himself to such a degree as to amount to an abuse of the public's trust in that office".
He was released on unconditional bail to appear at Southwark Crown Court on 12 April.
Elveden is being run alongside Operation Weeting, the investigation into allegations of phone hacking, and Operation Tuleta, a probe into computer hacking and other alleged privacy breaches.