UK soldier killed in Afghanistan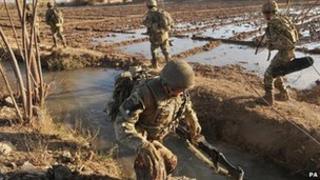 A soldier from the 1st Battalion The Mercian Regiment (Cheshire) has been killed in Afghanistan, the Ministry of Defence has announced.
The soldier was serving in the Nad-e Ali district of Helmand Province when he was injured in an attack by insurgents on Monday.
In a statement the MoD said he had been flown to hospital for treatment "where, sadly, he succumbed to his wounds".
His next of kin have been informed of his death.
Task Force Helmand spokesman Major Matt Allen said: "His death comes as a great loss to all serving in Task Force Helmand. Our thoughts and prayers are extended to his family and friends at this difficult time."
The death takes to 441 the number of UK service personnel who have lost their lives since operations in Afghanistan began in October 2001.
He is the third to die so far in 2013 and the first for more than two months.
The last to die was Kingsman David Shaw on 16 January.
British troop numbers were reduced from 9,500 to 9,000 before Christmas 2012 and numbers are set to fall to 5,200 by the end of 2013.
The remainder will leave by the end of 2014, when all Nato operations are due to finish, although a small number will remain after that, working at an officer training academy and in other support roles.
In central Helmand, British troops are handing over or closing operating bases at the rate of one a week, which is reflected in casualty numbers - three years ago a coalition soldier was killed every 18 hours on average in Helmand.