UK snow: RAF helicopter drops food for snow-bound animals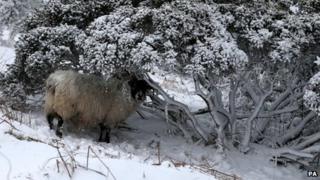 A military helicopter has been taking part in an emergency operation in Northern Ireland to deliver food to animals stranded in deep snow.
The RAF Chinook has begun dropping hay bales in the Glens of Antrim, where thousands of sheep are feared dead.
Snow and freezing temperatures continue to grip parts of the UK.
Thousands of homes remain without power in Scotland, Northern Ireland, and Wales. The Isle of Man has also been hit by huge losses of livestock.
A spokesman for the Ministry of Defence said the RAF Chinook had focused its initial efforts on the worst-hit area of the Glens of Antrim, where four bales had been delivered so far.
"One bale feeds 100 sheep for 24 hours - [the helicopter] is currently refuelling and will then go back out with another four bales," he said.
'Catastrophic losses'
He added it was difficult to say how many runs would be carried out, with food also needed in parts of South Down.
"Unless things change, the Chinook will be leaving Northern Ireland tomorrow morning," he said.
Meanwhile, more than 2,700 homes and businesses have spent a fifth day without power in the Isle of Arran and Kintyre in Argyll after a storm on Friday caused pylons to topple under the weight of snow and ice.
Some 20,000 properties in the west of Scotland were plunged into darkness during the storm, but many were reconnected on Monday and Tuesday.
Scottish and Southern Energy said it hoped to restore power to all customers by Thursday.
Freezing weather has also caused disruption in Wales, where snow on roads is not thawing in low temperatures.
Many were left without power following storms on Friday and Saturday, and some people in outlying villages say they still cannot get out of their streets on to main roads because of the amount of snow.
The worst-hit areas are Flintshire, Wrexham and Denbighshire.
Heavy snow has also trapped sheep in north Wales, leading to concern hundreds could die in the freezing conditions and drifts of up to 15ft (4.57m).
The Isle of Man has experienced the heaviest snow it has had for 50 years, according to the island's meteorological office.
More than a dozen roads on the island remain closed because of the weather, and around 85 homes have been without electricity since Friday.
Farmers also say they are facing "catastrophic losses", estimating that thousands of sheep and cattle yet to be found in deep snow may have died.
'Sunshine destinations'
Meanwhile, tourism operators say the unseasonably cold weather has prompted a surge in the number of Britons heading abroad for Easter this year.
The Association of British Travel Agents' Sean Tipton told the BBC its members were reporting "very strong demand for last-minute overseas holiday deals as customers look to escape the freezing temperatures in the UK".
"Some members are reporting over 50% increases in demand year on year for certain sunshine destinations," he said.
Airports said they were preparing for an especially busy Easter, with Heathrow expecting 1.2 million passengers between Thursday and next Tuesday - up from 1.1 million over last year's holiday.
A spokesman for Stansted Airport, in Essex, also said the airport was "expecting to be busier than the same time last year".
A Met Office spokesman said further cold weather was due through the rest of the week, with wind and snow showers "likely to continue across north-eastern and central parts of the country, although the odd wintry flurry is possible almost anywhere".
The enhanced content on this page requires Javascript and Flash Player 9
Map Key
Land
Cloud
Lakes, Rivers & Sea
Fog
Light
Heavy
Frost
Light
Heavy
Pressure Fronts
Cold
Warm
Occluded
Rain
Light
Heavy
Extreme
Snow
Light
Heavy
Temperature tab only
Temperature (°C)
More details from BBC Weather