Easter getaway as thousands leave the UK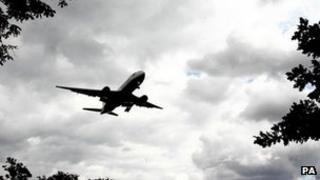 Thousands of Britons are set to travel abroad for Easter following several days of unusually cold weather.
Some 600,000 people are due to leave from Heathrow airport and about 214,000 from Gatwick, while Scottish airports expect more than 100,000 departures.
The Association of British Travel Agents said there was "strong demand" for last-minute overseas holidays.
It follows a bout of cold weather which saw heavy snow in parts of the UK and temperatures hovering around freezing.
Those travelling by rail over the four-day Easter break will have to contend with a number of engineering works, including major work at Reading, in Berkshire, and also work on the West Coast Main Line in the West Midlands.
And rail passengers between south Wales and London can expect their journey to take an extra 90 minutes over the weekend.
Elsewhere, a strike at French ports which was expected to severely disrupt cross-Channel ferry services over the weekend has been called off.
However, the AA reported no significant travel delays on the roads on Thursday evening.
'Warm destinations'
Mark Tanzer, chief executive of Abta, said: "After two wet summers and no end in sight to the winter, many Brits are desperate for some sunshine.
"We've seen a surge in last minute bookings to warm destinations and ski lovers are also in for a treat with some of the best snow conditions seen for years."
A spokeswoman for Heathrow said the airport was preparing for its "busiest seven days of the year so far, with 1.2 million passengers expected to hop through Heathrow" between Thursday and next Tuesday - up from 1.1 over Easter 2012.
And Gatwick confirmed the total number of passengers travelling through the airport during the Easter break was likely to be around 390,000.
"It's hard to put an increase figure on this from last year, as all of the above are still forecasted figures, but we are expecting to see growth across the same period last year," a spokeswoman said.
But some people will opt not to travel overseas.
VisitEngland said about 6% of the adult population were planning a break in the UK involving at least one overnight stay this Easter.
It said these trips were likely to generate about £600m for the UK economy.
The Highways Agency has suspended road works during Easter on a number of England's motorways and major A roads.
However, for safety reasons, works remain in place on some busy routes, including the M1 near Milton Keynes in Buckinghamshire.
The AA said it was expecting up to 17 million cars to take to the roads over the holiday, with the busiest periods expected to be Thursday afternoon and Good Friday morning.
It added that some roads might not be as busy as usual because the cold weather was likely to make it more of a "stay-at-home Easter".
'Risk of ice'
The Met Office said the majority of the UK would stay dry over Easter, although temperatures would remain cold.
Chief forecaster Frank Saunders said: "The prospect of drier and brighter weather will be a welcome relief for many, but the prolonged low temperatures will mean that any lying snow will be slow to thaw.
"This will maintain sharp night-time frosts and a risk of ice, and people should be aware of the potential for tricky driving conditions if they are travelling this weekend."
Meanwhile, the unseasonably wintry weather has continued to cause problems in parts of the UK.
Northern Ireland's agriculture committee is holding an emergency weather meeting to assess the damage caused to NI farms by the heavy snow.
The Glens of Antrim and parts of County Down have been particularly badly affected by snow drifts, while roads across the country have been closed.
Two RAF Chinooks and two Irish Army Air Corps helicopters are helping to deliver food supplies to stranded animals - with many feared dead.
In north Wales, snow which has hardened in freezing temperatures has led to a number of major road closures. Councils say some are blocked "hedge to hedge".
The number of homes without power on the Isle of Arran in Scotland has risen to 1,200 due to a problem with a generator.
Thousands of people in Scotland were left without electricity following snow storms that began last Friday.
Power has now been restored to about 80 homes in Kintyre, Argyll.
And farmers across parts of the UK have been trying to rescue their snowbound livestock. One farmer in Upper Teesdale said he feared he could lose his entire flock of sheep as poor weather conditions continue to hit the region.