MP Eric Joyce will not face charges over bar incident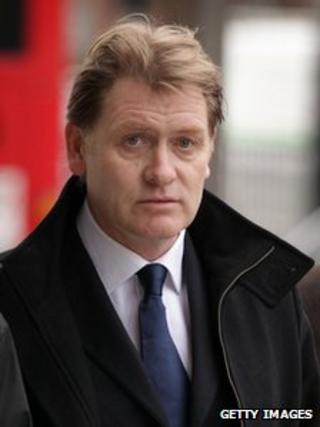 MP Eric Joyce will not face charges following his arrest over an alleged brawl in a House of Commons bar.
Scotland Yard said it would be taking no further action following the incident earlier in March.
Last year, the independent MP was convicted of assault in the Strangers' Bar in the House of Commons and later resigned from the Labour Party.
In a recent blog post, the MP, who has said he will stand down at the next election, denied he was an alcoholic.
"I do not go into bars, nor drink in my office. Nor do I inject alcohol right into my eyeballs while crying", he said in the blog.
Following his arrest in March, Mr Joyce was was held at Belgravia police station for around 20 hours before being released on police bail.
He was also banned from buying alcohol in the Houses of Parliament, pending the police investigations into the incident.
The Met police said: "A man aged in his fifties, arrested on Thursday 14 March… in connection with a disturbance in a bar within the House of Commons and bailed to a central London police station has been released with no further action today."
The Crown Prosecution Service said that after receiving a complete file on the incident, it had concluded there was insufficient evidence to bring charges.
"Although there appears to have been an incident on the evening in question, evidence obtained from witnesses contained multiple inconsistencies and there is insufficient evidence that Mr Joyce committed any offence," a CPS spokesman said.
"On this basis, we have concluded there is insufficient evidence to support a realistic prospect of conviction and that no further action should be taken."
Eight bars
The parliamentary estate has eight bars and 19 other catering venues, most of which sell alcohol. It is also possible to buy specially branded alcohol, such as the Speaker's malt whisky, from two gift shops.
Measures have already been taken to try to encourage more responsible drinking in Parliament, with staff told to cut down on topping up MPs' glasses at receptions.
The authorities also say there have been "significant price increases" in alcohol sold in parliamentary bars, which are "now comparable to high street pubs".
Speaking outside court, after pleading guilty to assault in March last year, Mr Joyce said the fight was a "matter of considerable personal shame" and that the punishment was fair.
He was given a 12-month community order that included a Friday-to-Sunday curfew and a three-month pub ban. He was fined £3,000 and ordered to pay £1,400 in compensation to his victims.
"Drink was an aggravating factor, there's no question about that," he said.
"It's something I have to deal with personally. Not everyone who drinks gets involved in fights and certainly when they are my age."