Archbishop Justin Welby makes Thought for the Day debut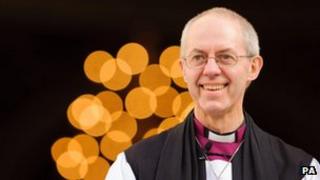 The new Archbishop of Canterbury, Justin Welby, has delivered his first Thought for the Day, the religious slot on BBC Radio 4's Today programme.
He reflected on the importance of Good Friday, an "extraordinary day", and described the death of Jesus as "both a challenge and a promise of hope".
Thought for the Day is a topical reflection from a faith perspective by speakers from major world faiths.
The Most Reverend Justin Welby was enthroned as archbishop last week.
The ceremony at Canterbury Cathedral was attended by Prime Minister David Cameron and Prince Charles, who watched as the 57-year-old was formally sworn in as head of the Church of England.
In his Thought for the Day, he said: "Good Friday is an extraordinary day.
"Whoever you are, whether rulers and rich, or ordinary people dealing with the worst of times, the death of Jesus is both a challenge and a promise of hope.
"The challenge is to show that same self-giving love for the sake of others.
"The promise is that nothing is beyond His reach and even despair can be healed."
Questioned by presenter Sarah Montague after giving his address, Archbishop Welby said he rarely listened to Today because it didn't fit in with his daily routine.
The archbishop will make his radio presenting debut on Easter Sunday by hosting the Classic FM breakfast programme.