Civil servants strike over pay and pensions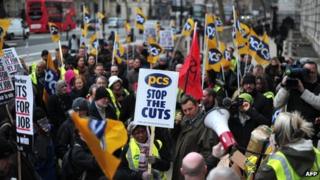 Civil servants from government departments and driving test centres have taken part in a strike over pay, jobs and terms and conditions.
The Public and Commercial Services (PCS) union said the half-day strike caused "massive disruption".
The union said the dispute is to be escalated, with a week of strikes at the Home Office and UK Border Agency.
Cabinet Office minister Francis Maude said the government's contingency plans had "worked well".
The walkout is part of a three-month campaign of industrial action and started with a strike on the day of the Budget.
'Solidly supported'
PCS general secretary Mark Serwotka told a rally outside the Cabinet Office in Westminster that a week of strikes will be launched at the Home Office and UK Border Agency from 15 April, with different groups of workers taking action at different times.
The Home Office said it had not yet received any official notification of the proposed additional action.
Mr Serwotka said: "These walkouts have been very solidly supported and show the depth of anger hard-working public servants feel at having their living standards cut.
"We warned the Home Office and UKBA that their belligerent approach would only serve to escalate the dispute and we are now planning a longer series of strikes that will cause even more disruption.
"These walkouts are part of an ongoing campaign of industrial action and protests to put pressure on a government that is refusing to even talk to us."
'Contingency plans'
Staff at the Home Office and UK Border Agency did not join the stoppage following a legal challenge by the government.
Thousands of PCS members at HM Revenue and Customs will go on strike on Monday as part of the rolling programme of action.
Mr Maude thanked the "overwhelming majority of committed public sector workers" who he said had "remained at work today to deliver essential services. We are grateful for their dedication".
He added: "Our figures show that only 40,793 civil servants heeded PCS' call to strike this afternoon - which represents less than 10% of the civil service.
"Our rigorous contingency plans have worked well. Throughout the day they have limited the impact of the strike significantly and as a result the majority of key public services have remained open.
"Talk of further strike action is disappointing - now is the time for us all to work together to ensure we can deliver exceptional public services, support growth and build the economy."