Newspaper review: Papers round on former HBOS bosses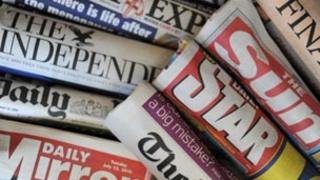 The Independent leads with the withering condemnation by MPs and peers of three former executives who presided over the collapse of HBOS.
"Worse than Fred Goodwin" is its headline - a reference to the former head of RBS.
The Times says a leading Conservative MP believes one of the trio should suffer the same fate as Mr Goodwin.
Dominic Raab tells the paper that Whitehall's Forfeiture Committee should consider stripping Sir James Crosby of his knighthood.
Case study
The Guardian calls the report by the Parliamentary Commission on Banking Standards "excoriating" and "scathing".
For the Financial Times it's "stinging". The paper notes the commission's view that the HBOS catastrophe was a case study in how not to run a bank.
In its editorial, the Daily Mail also wonders why Sir James and Lord Stevenson are not being stripped of their honours and it asks why all three are not being questioned by the police.
The editor of the Spectator, Fraser Nelson - writing in the Daily Telegraph - says a country that hates bankers has been given three new world-class villains. But he believes the great error was politicians getting too close to bankers.
Parking Bay
The Daily Mirror takes a front-page pop at George Osborne - reporting that he "sparked outrage" for parking in a disabled bay at a motorway service station.
The paper even prints a large photo to prove its point that the chancellor, as it puts it, "couldn't care less about anyone else".
But the Treasury points out that Mr Osborne was actually dropped off near the entrance to the building.
The car was parked while he was inside buying some lunch and that he had not driven the car at any point.
Muddy pubs
The Guardian reports that Britain is trying to opt out of an EU initiative that would enable anyone to delete their personal details from online service providers - the so-called "right to be forgotten".
The paper says the debate highlights growing tensions between freedom of expression and the right to privacy with more people complaining that their reputations are being damaged by outdated, inaccurate or malicious information that cannot be removed.
The paper says Britain's objection is that the move will create unrealistic expectations about what can be removed.
Finally, the Daily Telegraph asks: "Where are the pubs with mud and sandwiches?"
It says campaigners are mourning the loss of country pubs which cater for ramblers in boots who want a sandwich and a quick half.
Too many landlords are turning their bars into gastropubs with elaborate menus and prices to match.
But writer Adrian Tierney-Jones points out that, for all their faults, "posh" pubs have raised the standard of pub food from the days of chicken-in-the-basket.