Newspaper review: Papers discuss political row over welfare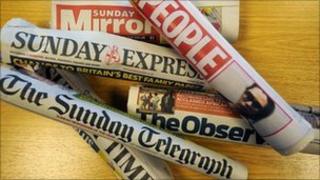 The political battle over the government's welfare shake-up makes the lead for many of the Sunday papers.
The Sunday Telegraph says ministers are braced for fresh protests about changes to the main disability benefit coming into force this week.
In a leader column, it argues that the Conservatives - unlike Labour - have understood that people are tired of seeing taxpayers' money spent on funding welfare dependency.
But most of those receiving benefits are hard-working, conscientious and respectable, maintains the Sunday Mirror.
The paper says that that while millions of ordinary people fret about soaring bills, stagnant wages, slashed benefits and unemployment, the super-rich are rejoicing in tax cuts greater than most workers earn in years.
Restore fairness
The Observer carries an article about Labour's plan to change the welfare system and to reward those who contribute more to the state - which the paper suggests is a "radical shift" for the party.
However, writing in the Sun on Sunday, Prime Minister David Cameron insists the government's approach will restore fairness to the tax and welfare systems.
Elsewhere, the Independent on Sunday says the report on the Chilcot Inquiry into the Iraq war is expected to contain severe criticism of former Prime Minister Tony Blair.
It says evidence given in secret by British intelligence shows Mr Blair was told that Iraq had - at most - only a trivial amount of weapons of mass destruction and that Libya was a far greater threat.
The news that three former directors of HBOS could be banned from serving as company directors is reported on the front page of the Sunday Times.
It reveals one of the men, the former chief executive James Crosby, is sitting on a pension pot worth as much as £25m - giving him an annual income of £700,000.
Compensation culture
The Sunday Express reports that organised criminal gangs are targeting dementia sufferers - offering to carry out work on their homes and then fleecing them out of their life savings.
It says the crooks operate on an industrial scale and often sell the names and addresses of their victims to other gangs.
Finally, new figures have revealed for the first time the extent of a compensation culture said to be rife in the police force, according to the Sunday Times.
It reports that more than 8,000 officers have claimed compensation worth nearly £70m over the past four years for injuries sustained while on duty.
The Mail on Sunday provides some examples of claims by officers, including one who developed a fear of sirens, and another whose wrists were injured by handcuffs on a training course.