Clegg attacks Tory and Labour 'inefficiency' as Lib Dems launch campaign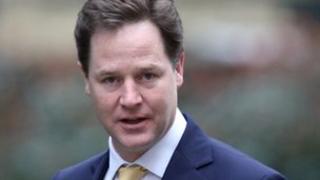 Nick Clegg has launched the Liberal Democrats' local election campaign by claiming Labour and the Conservatives waste money through "inefficiency and their own vanity projects".
The deputy prime minister argued that his party was the only one capable of spreading "the burden of austerity fairly" and helping families.
He urged Lib Dem activists to "work even harder" to ensure success.
Elections for 34 councils in England and one in Wales take place on 2 May.
There will also be two mayoral polls.
'Instincts'
In his speech at the Eden Project in Cornwall, Mr Clegg attacked Labour and the Lib Dems' partners in coalition government, the Conservatives, over their record of running councils.
He said that "when millions of families are feeling the pinch, they'll both squander taxpayers' money on waste, inefficiency and their own vanity projects".
"When savings need to be made, you just cannot rely on the Tories to make the fairest decisions. Their instincts drag them in the wrong direction."
Ed Miliband also launched Labour's campaign on Monday, saying he wanted councils to be allowed to prevent the opening of shops such as payday lenders and bookmakers.
Mr Clegg said: "Today we'll hear from Ed Miliband about why people should vote for his party... He won't say: 'Labour are sorry they crashed the economy.' And he won't present a serious and detailed plan to fix the mess they created. That much we know."
He added: "A vote for the Liberal Democrats, on the other hand, is a vote for a party which - wherever we're in power - does its best to spread the burden of austerity fairly, investing in jobs and help for hard-pressed families. Only the Liberal Democrats will build a stronger economy and a fairer society, enabling everyone to get on in life."
The deputy prime minister lauded his own party's efforts to increase the threshold at which people start paying income tax.
He also exhorted activists to campaign harder and demonstrate that the Lib Dems had a "national and local record" to voters.
"Next month, in wards across the country, people will be confronted with the same choice," Mr Clegg said. "Despite all their stated differences, a vote for Labour or the Tories will be a vote for the same thing."