Pet poll reveals owners' devotion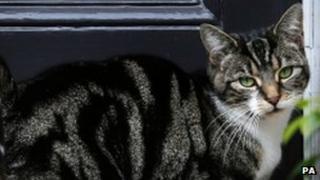 Many UK pet owners prefer to hug their animals rather than a close relative when feeling low, a poll for a social networking website suggests.
Half of the 1,124 people quizzed for My Social Petwork said they acted in such a way and a third said they spend up to 30 days a year caring for their pets.
One in five has cancelled social plans to be with their pet, March's survey conducted by OpinionMatters found.
The website described its survey as the "UK's first pet census".
The survey suggested that one in five pet owners regularly uses social networking sites Facebook or Twitter to share pet images, and 10% of people have taken their pet to occasions such as christenings or weddings.
'Healthy and happy'
About 7% of owners have cancelled a date and 4% have called in sick to work because of their pets, the survey said.
A quarter of UK pet owners said their pet was more like a child to them than a pet, while 15% said their pet was someone that they confided in with their problems.
TV vet Emma Milne said: "As a vet and animal welfare spokesperson it is extremely heartening to see the lengths that people go to ensuring that our pets are well cared for and looked after.
"Everyone must be aware of the responsibility they are taking on when they choose to own any pet - whether that be a dog, cat, guinea pig or fish - and the results of the census shows that the majority of pet owners in the UK are doing a fantastic job in providing their pet a healthy and happy life by putting their pets first."