Two in hospital after house fire in Forest Gate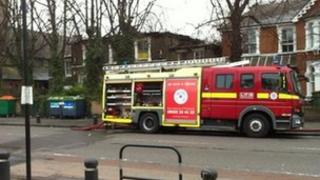 Two men have been taken to hospital after a house fire in east London.
Firefighters rescued a man from the roof of the building in Romford Road, Forest Gate, and another man escaped before emergency services arrived.
The roof was destroyed in the blaze and a large part of the ground and first floors of the building was damaged by the fire.
Firefighters were concerned about four missing people however a search of the property did not find anyone.
They had thought the building was being used as a squat and were not sure how many people were staying there.
Severely damaged
Eight fire engines were called to the fire at 03:15 BST after flames engulfed the property. The fire was under control by 07:30.
Station manager Daniel Alie, who was at the scene, said: "The fire caused severe damage to the house and the roof was destroyed. Crews rescued a man from the rear of the house using a ladder.
"Our fire investigation unit is now working to find out what caused the blaze."
A London Ambulance spokesman said two men were treated for smoke inhalation and minor injuries.