Rail cable theft: Train delays 'in decline'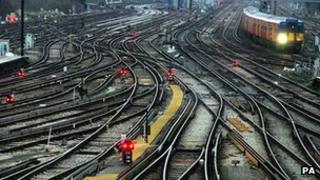 Rail passenger and freight service delays caused by metal and cable theft halved in the last year, Network Rail figures show.
There were 285 incidents and 2,700 hours of delays in the 12 months to April, compared with 845 incidents and 5,740 hours of delays in 2011-2012.
The cost, which includes compensation payments, fell from £18.3m to £12.7m.
The company said targeting thieves and scrap dealers buying stolen metal had helped see incidents fall since 2010.
There were more than 1,000 thefts and 6,000 hours of delays in the 2010-11 period.
There has been increased action by the British Transport Police (BTP) since then, boosted by Home Office funding of £5m for a dedicated task force to crack down on the problem.
In December, a ban on cash payments by scrap metal dealers in England and Wales and increased fines for offences under the Scrap Metal Dealers Act came into effect.
Network Rail operations and performance head Neil Henry said: "These figures show the true success of partnership working and are great news for passengers and our freight customers."
He said engineers for the company, which looks after the rail infrastructure, had also worked with suppliers to make its metal, particularly the cables, harder to steal and easier to identify.
"Our teams around the network are introducing new ways of working to reduce delay and fix thefts more quickly," he added.
Rail Minister Norman Baker said the government was "strongly committed to tackling metal theft and it is heartening to see that the decisive action that has been taken is now paying off with major reductions in this kind of crime".
Detective Chief Inspector Gill Murray, of BTP, said the fall in thefts was encouraging and "a testament to the work done by police and partner agencies".
Gary Cooper, director of operations and engineering at the Association of Train Operating Companies, added: "Rail users are starting to benefit from the industry's joint and determined crackdown on cable theft."