Alps coach crash driver Maurice Wrightson's 'courage' praised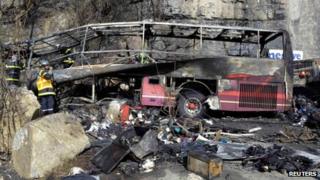 The actions of a British man who died when the coach he was driving crashed in the French Alps helped to save the lives of passengers, officials say.
French transport minister Frederic Cuvillier visited the scene near Alpe d'Huez and said Maurice Wrightson, 63, had displayed "remarkable courage".
He said the Northumberland man had let the coach hit rocks to slow down rather than risk it going over a precipice.
Three seriously injured Britons remain in hospital after Tuesday's crash.
They were among more than 50 people who were on the coach when it crashed and burst into flames.
The chartered coach had been transporting ski resort staff back to the UK at the end of the ski season.
Mr Cuvillier said: "The actions of some people were instrumental in avoiding what could have been a much worse situation.
"The position the coach was in shows a great effort to control it... the coach was able to slow down rather than continue on its course and go off the edge into the ravine, which would have led to far more casualties."
Facebook tributes
The coach crashed as it travelled down a steep mountain road, which features 21 hairpin bends. The road regularly features in the Tour de France cycling race.
Police suspect there was a problem with the vehicle's brakes, causing it to veer off its intended path.
Several passengers escaped from the burning wreckage by jumping from the windows. A helicopter was scrambled to the scene where firefighters battled to put out the flames.
Mr Wrightson, from Ashington, worked for County Durham-based Classic Coaches and the coach had been hired by Brighton company Skibound.
Family and friends paid tribute to Mr Wrightson using a Facebook page.
Wendy Wrightson described him as "a good man who lost his life far too soon, but lost it a hero doing what he did best".
She wrote: "We lit all our candles last night and chatted fondly about you. You will be a huge miss to many people, but I wish you peace and sleep well, you deserve it. I am sure your star will be shining brightly for all to see and see it we all will."
Steve Wardlaw said: "Everyone who knew Maurice liked him. Everyone who met him had a Maurice story to tell. And every Maurice story left you smiling... RIP a legend to us all."