Mother appeals to Dubai judge for son's release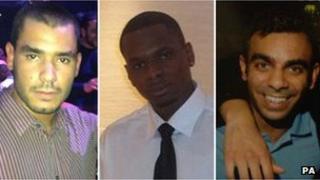 A British woman has appealed to a Dubai judge to release her son who was allegedly tortured by police after being arrested during a holiday.
Tracy Cameron was allowed to address the judge in the case of her son Grant, who is on trial for drug offences.
She described her son, 25, as an honest young man.
He was charged along with fellow Londoners Karl Williams and Suneet Jeerh after being arrested last year. They all deny the charges.
The trial of the trio on charges of possessing, taking and intending to distribute illegal drugs began in February.
In her statement, Ms Cameron said: "Children are a gift of God and my son has been away from his family who love and miss him for a year now.
"Grant Cameron has a bright future ahead of him in the family business, he is a kind caring and most importantly honest young man with integrity and dignity. He came to Dubai as a tourist and was only in the country a matter of days when he was sadly arrested.
"I humbly ask that you send Grant back to his family where he belongs."
Her statement was published on the website of legal rights charity Reprieve, which has been supporting the men.
The men were arrested during a holiday last July after police said they found a quantity of a synthetic cannabis known as "spice" in their car.
They alleged that they were driven out into the desert, beaten up and given electric shocks from a stun gun.
One of them has alleged he was later stripped and had electric shocks administered to his testicles.
All the men say they were pressured into signing statements written in Arabic which they did not understand.
However, the police have denied any wrongdoing.