Ex-Sun deputy editor faces payments charge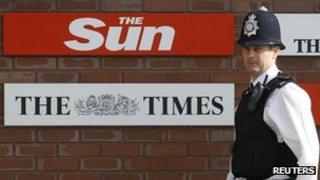 A former deputy editor at the Sun has been charged with conspiring to commit misconduct in public office, the Crown Prosecution Service has announced.
It is claimed that Fergus Shanahan authorised one of his journalists to make two payments totalling £7,000 to a public official for information.
It is alleged to have occurred between August 2006 and August 2007.
Mr Shanahan, now executive editor at the Sun, will appear at Westminster Magistrates' Court on 8 May.
The charges arise from Operation Elveden, which is investigating allegedly inappropriate payments from journalists to public officials.
Alison Levitt, QC, principal legal advisor to the Director of Public Prosecutions, said: "This announcement relates to a file of evidence from the Metropolitan Police Service that was received by the CPS on 4 March 2013.
"Following a careful review of the evidence, we have concluded that Fergus Shanahan, who served as an Editor at the Sun newspaper, should be charged with an offence of conspiring to commit misconduct in public office."
'Offering support'
The charge alleges that Mr Shanahan: "between 7 August 2006 and 14 August 2007, conspired with a public official and a journalist to commit misconduct in a public office".
The official in the charge cannot be named for legal reasons.
The chief executive of News International, Mike Darcey, has sent an email to staff at the Sun, telling them Mr Shanahan had been charged.
He added: "Fergus is a distinguished 24-year veteran at the Sun and he is a great friend and colleague to many of us. Our thoughts are with his wife and two daughters. We will be offering Fergus every support as he goes through the legal process and we will not prejudge the outcome."
The Metropolitan Police has arrested more than 100 people as part of its combined investigations into journalists who allegedly hacked phones or have been involved in other potentially illegal methods of gaining information.
Nineteen people have been charged with offences. Five public officials - three of them police officers - have been convicted of misconduct in a public office in relation to their dealings with journalists.
Last month, Richard Trunkfield, who worked at Woodhill prison near Milton Keynes, was jailed for 16 months for passing on details about one of James Bulger's killers, Jon Venables.
Ex-Surrey PC Alan Tierney received 10 months for selling details about two cases linked to high-profile people.
A Metropolitan Police detective, April Casburn, was the first to be jailed after being convicted of offering to sell information to the News of the World. She received a 15-month sentence.
A third police officer, jailed for two years, cannot be named for legal reasons.