Lindsay Sandiford appeal receives £1,800 from man aged 87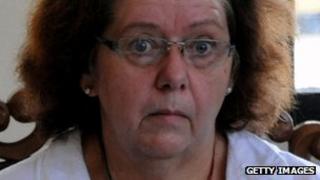 An 87-year-old man has donated £1,800 to allow a British drug smuggler jailed in Bali to appeal against her death sentence.
Lindsay Sandiford, 56, of Cheltenham, was convicted of smuggling 4.8kg (10.6lb) of cocaine in May 2012.
Victor Leversha, from Bedfordshire, told the BBC he "couldn't sit by and do nothing" and would "pay whatever it costs to give her the chance".
His donation takes the total raised by the public to more than £8,000.
Sandiford's legal team said that was the minimum amount required for her to mount her appeal.
Following her conviction, the prosecution recommended a prison sentence of 15 years but judges later sentenced Sandiford to death by firing squad.
'Highway days'
On Monday she lost an appeal against the UK government's refusal to pay her legal fees - a defeat which her lawyers said left her needing help from the public.
By Tuesday morning, a campaign set up on the Just Giving website had reached more than £6,200 when Mr Leversha made a pledge live on BBC Three Counties Radio to make up the shortfall.
Clearly emotional, he told the Jonathan Vernon-Smith programme: "It seems like it's going back to the old highway days, your money or your life.
"It's only a matter of money if someone lives or dies and that is not something I agree with. So I would like to meet the cost myself."
He added: "I'm willing to forgo something in my life to give her the money."
Clive Stafford Smith, director of legal charity Reprieve which is helping fight Sandiford's case, spoke after Mr Leversha made his offer.
"All I can say is it makes you proud to be a human being when people show that kind of compassion."
Speaking again to the BBC after donating the money, Mr Leversha said: "Whatever mistakes we've made, everyone deserves a second chance. Drugs cause dreadful harm, but whatever the reason she did it, it's too easy to take a life.
"She appears to have been through a pretty rough time in prison and to spend the rest of her life there would be a dreadful prospect, but where there's life, there's hope.
"Nothing is guaranteed in the appeal but I couldn't sit by and do nothing."
The £8,000 target was reached on the same day that Sandiford's lawyer lodged her intention to appeal with the Indonesian Supreme Court.
She now has 14 days to make all the necessary legal submissions.
The Foreign Office has said "it does not operate a legal aid scheme to cover legal expenses for British nationals involved in criminal proceedings abroad, nor does it provide funds in exceptional cases".
Sandiford was originally from Redcar, in Teesside, but her last UK address was in Gloucestershire.