Class A drugs policy failing, say prison governors
25 April 2013

From the section

UK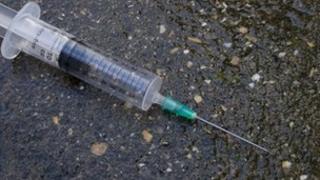 Current policy on illegal drugs creates victims of crime and more prisoners at a cost to taxpayers, the Prison Governors Association (PGA) has argued.
It says blanket prohibition of Class A drugs allows criminals to control the quality and supply of them to addicts, who turn to crime to fund their habits.
The PGA has signed up to the international Count the Costs campaign against an enforcement-led approach.
The Home Office said drugs were illegal "because they are dangerous".
PGA president Eoin McLennan-Murray said it believed "a substantial segment of the prison population have been convicted of low-level acquisitive crimes simply to fund addiction".
"The current war on drugs is successful in creating further victims of acquisitive crime, increasing cost to the taxpayer to accommodate a higher prison population and allowing criminals to control and profit from the sale and distribution of Class A drugs," he said.
"A fundamental review of the prohibition-based policy is desperately required and this is why the Prison Governors Association are keen to support the Count the Costs initiative."
'Futility of approach'
Count the Costs co-ordinator Martin Powell said PGA members witnessed "the day-to-day futility of the UK's current enforcement-led approach to drugs".
"Increasingly, those involved in picking up the pieces of our failed war on drugs want to see alternatives to prohibition explored," he said.
He also called on the government to commission a comprehensive policy review "as a matter of urgency".
The Home Office is undertaking an international study on "alternative approaches" used in other countries, including some forms of decriminalisation.
That followed a call in December by the Commons Home Affairs Committee for ministers to consider a system of drugs decriminalisation used in Portugal.
The committee said it was impressed with the approach to cutting drug use, under which people found with small amounts of drugs are not always prosecuted.
But the Home Office rejected the committee's call for a Royal Commission on drugs policy, saying there was no case for "fundamentally rethinking the UK's approach".
It said the coalition government had "no intention of decriminalising drugs".
Responding to the PGA's call, a spokesman said drugs were illegal because "they destroy lives and blight communities".
"The government's drug strategy is clear and our balanced approach combines effective enforcement, efforts to reduce demand and the promotion of robust treatment programmes," he added.
"Drug usage remains at its lowest level since records began and the number of heroin and crack cocaine users in England has fallen below 300,000 for the first time."
Last week, it was revealed that Brighton's local authority was considering allowing it to become the first city in the UK to provide rooms where people would be able to use illegal drugs safely without the fear of prosecution.
The intention is to reduce the risk of overdoses and other drug-related deaths, as well as decreasing the amount of drug-taking on the streets of Brighton.