Tory MP Nigel Evans bailed in rape inquiry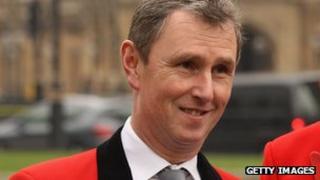 Deputy House of Commons Speaker Nigel Evans has been released on bail after being arrested on suspicion of rape and sexual assault.
The Conservative MP, 55, was questioned about alleged attacks on two men in their 20s, the BBC understands.
Police said a 55-year-old man was arrested on Saturday morning and was interviewed by officers all day.
The alleged offences took place between July 2009 and March 2013 in Pendleton, Lancashire, police added.
Mr Evans has been bailed until 19 June.
Prime Minister David Cameron has been made aware of the arrest, it is understood.
In a statement, Lancashire Police, who have not named the man, said: "A 55-year-old man from Pendleton in Lancashire has today, Saturday, 4th May 2013, been arrested by Lancashire Constabulary on suspicion of rape and sexual assault.
"The offences are alleged to have been committed in Pendleton between July 2009 and March 2013.
"We take all allegations of a sexual nature extremely seriously and understand how difficult it can be for victims to have the confidence to come forward.
"As a constabulary, we are committed to investigating sexual offences sensitively but robustly recognising the impact that these types of crimes have on victims."
'Completely shell-shocked'
Mr Evans, MP for the northern England Tory stronghold of Ribble Valley since 1992, was elected as one of three Commons deputy speakers three years ago.
In more than two decades in Parliament, the Swansea-born MP - who came out as gay to a Sunday newspaper in 2010 - has held some senior posts in the party.
From 1999 to 2001, he was vice-chairman of the Conservative Party. Then, when Iain Duncan Smith became party leader in 2001, he was promoted to shadow Welsh secretary - a post he held for two years.
Mr Evans grew up in Swansea, graduating in politics from the city's University College and joined the Conservatives when he was 17.
He has a strong background in local government, and was first elected as a councillor to West Glamorgan county council in 1985, while managing his family's newsagent business.
He stood twice in Welsh seats before landing the Lancashire constituency he has held since 1992.
After entering the Commons that year, he quickly became a parliamentary private secretary, working for William Hague for two years during his time as Secretary of State for Wales.
Mr Evans, an outspoken right-wing MP and known Eurosceptic, was one of the first MPs to start campaigning against the prospect of a single currency. He has also regularly campaigned against drugs.
Michael Ranson, chairman of the Ribble Valley Conservative Association, said people in the constituency were "completely shell-shocked".
"He is a very popular MP and a very good constituency MP. He's given assistance to a lot of his constituents over many years," he told Sky News.