Bali drug smuggler Lindsay Sandiford lodges new appeal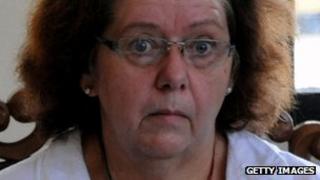 A British woman facing death by firing squad for drug smuggling in Bali has lodged an appeal at Indonesia's Supreme Court.
Lindsay Sandiford, of Cheltenham, Gloucestershire, was convicted of smuggling 4.8kg (10.6lb) of cocaine.
She says she was coerced into carrying the drugs, but lost an earlier appeal against her death sentence last month.
Sandiford, 56, has raised more than £10,000 in public donations to fund her legal challenges.
She was arrested after a flight from Thailand in May 2012 and accused of being at the centre of a drugs ring.
Following her conviction, the prosecution recommended 15 years imprisonment but a panel of judges later sentenced Sandiford to death.
She appealed to Bali's High Court, but judges ruled the sentence was "accurate and correct,"
'Mitigating evidence'
If the Supreme Court rejects her latest appeal, she can seek a judicial review of the decision from the same court. After that, only the country's president can grant her a reprieve.
Zoe Bedford, from legal charity Reprieve, said she expected the Supreme Court to make a decision in Sandiford's case within 96 days.
"We are hopeful that the Supreme Court will take into consideration the compelling mitigating evidence in Lindsay's case and award her a sentence that is proportionate both to the offence and to her role in it," she said.
"In particular, it is hoped that the judges will give due consideration to Lindsay's co-operation with the authorities, which led to the arrest and prosecution of more senior syndicate members, and take into account the need to encourage others to co-operate in the future."
Ms Bedford added: "Lindsay remains extremely grateful to the generosity of the public in raising the funds to allow her to file this appeal."
The Foreign Office has said the UK opposes the use of the death penalty, but does not fund legal representation for British nationals abroad.
In an interview from prison last week, Sandiford, who is originally from Redcar in Teesside, told the BBC the government's lack of help was "tantamount to condoning the death penalty".