Abu Qatada: Theresa May vows to 'carry on' with deportation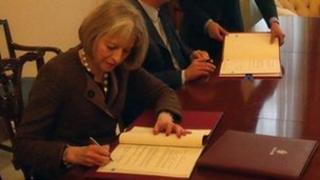 The home secretary says she will continue to work to deport Abu Qatada, after his lawyer said the radical cleric would return to Jordan voluntarily if a treaty is ratified.
Theresa May said her aim was still to deport Abu Qatada within the rule of law, which they were "closer to now".
The UK and Jordan have signed a mutual assistance treaty which includes guarantees on fair trials.
Abu Qatada faces a re-trial on terrorism charges in Jordan.
He was convicted there in his absence in 1999 and sentenced to life imprisonment.
It is on these charges that he faces a retrial. But his lawyers claim he would not get a fair trial because the evidence against him comes from people who were tortured into implicating him.
'Carry on working'
Mrs May says she believes the treaty will provide the courts with assurance that Abu Qatada would face a fair trial in Jordan.
He has never been charged with an offence in the UK, although the government has been trying to deport him for almost eight years, during which time he has been in and out of jail.
Last week, Abu Qatada's lawyer, Edward Fitzgerald QC, told a Special Immigration Appeals Commission bail hearing his client would voluntarily return to Jordan if the treaty between the UK and Jordan was ratified.
In response Mrs May told Sky New's Murnaghan programme: "What I think it is right and proper for me to do, and sensible for me to do, is to carry on working, obviously, for that ratification.
"But then when ratified by both parliaments it will be open to me to issue a new deportation notice.
"I've had a strategy of deporting Abu Qatada within the law. That remains my strategy, but I'm clear that what we want is for Abu Qatada to leave the United Kingdom."
The cleric is currently in prison after being arrested in March for allegedly breaching his strict bail conditions.
Last year, Siac, which adjudicates on national security-related deportations, ruled Abu Qatada should not be removed from the UK.
The government lost an appeal against the ruling and it also failed in its bid to get the case referred to the Supreme Court.
Shadow home secretary Yvette Cooper told the BBC's Andrew Marr programme: "This has gone on far too long. I think it's been a really unfortunate saga.
"I think the, you know, the process, the legal process has gone on too long and so I wish that Abu Qatada had made his statement some years earlier that he says he will return voluntarily but, you know, we'll wait to see that this isn't just another legal trick.
"We'll wait to see that this isn't just a legal ploy. I do hope that he goes. We want him to face fair trial in Jordan for the serious crimes against which he's been accused."