John Anthony Downey in court over 1982 IRA Hyde Park bombing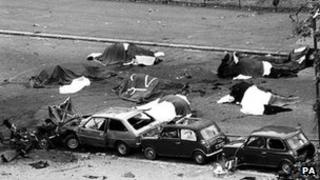 A man has appeared in court charged with the murder of four soldiers in the 1982 IRA bombing in Hyde Park, London.
John Anthony Downey, 61, of County Donegal, Ireland has been charged with the murders of Roy John Bright, Dennis Richard Anthony Daly, Simon Andrew Tipper and Geoffrey Vernon Young.
The four members of the Household Cavalry were travelling to Buckingham Palace when they were killed.
Mr Downey was arrested at Gatwick Airport on Sunday.
He has also been charged with intending to cause an explosion likely to endanger life.
Mr Downey appeared at Westminster Magistrates' Court where he spoke only to confirm his name, date of birth and address.
The case was sent to the Old Bailey for a bail hearing on Friday and a preliminary hearing on 5 June.
'Inhuman acts'
The bomb that Mr Downey is charged with planting was the first of two that caused carnage in London on that day. In total, 11 people died and 50 were injured by the bombs, which exploded less than two hours apart.
In the first incident, a nail bomb in a blue Austin car was detonated as members of the Household Cavalry made their way from their barracks in Knightsbridge to the changing of the guard at Buckingham Palace.
Four men and seven horses were killed and a number of police officers and civilians were injured.
A second explosion in a Regent's Park bandstand killed seven Royal Green Jackets bandsmen.
Sue Hemming, head of special crime and counter-terrorism at the Crown Prosecution Service, said: "The Metropolitan Police Service has been investigating the explosion near Hyde Park in London which occurred on 20 July 1982.
"We have reviewed the evidence gathered and authorised them to charge John Anthony Downey, 61, of County Donegal, Ireland.
"It is alleged that Downey is responsible for the improvised explosive device contained in a car parked in South Carriage Drive, SW1, London, which resulted in the deaths of four members of the Household Cavalry, Blues and Royals, as they travelled on their daily route from their barracks to Buckingham Palace."
Security was stepped up in the capital after the bombings, which both the British and Irish prime ministers at the time condemned as "callous and cowardly crimes" and "inhuman acts".
Sentence review
Sinn Fein described the arrest as "vindictive, unnecessary and unhelpful" to the peace process.
Sinn Fein Assembly Member Gerry Kelly said: "The decision to arrest and charge him in relation to IRA activities in the early 1980s is vindictive, unnecessary and unhelpful. It will cause anger within the republican community.
"Clearly, if John Downey had been arrested and convicted previously he would have been released under the terms of the Good Friday Agreement."
Mr Kelly added: "This development represents bad faith and a departure from what was previously agreed by both governments. John Downey needs to be released and allowed to return home to his family."
In 1987, Northern Ireland electrician Gilbert "Danny" McNamee was charged with making the Hyde Park bomb and jailed for 25 years.
He was freed in 1998 under the terms of the Good Friday peace deal and had his conviction quashed at the High Court after a high-profile campaign by celebrities including Eddie Izzard.
But although his conviction was "unsafe" it did not follow he was innocent of the crime, the judges said.
Anyone convicted of a terrorist offence in the UK or Republic of Ireland before the signing of the Good Friday Agreement on 15 April 1998 is entitled to apply to the Sentence Review Commission to be considered for release after serving two years in jail.
Last year a coroner ruled that a survivor of the Hyde Park bomb with post-traumatic stress, ex-Army sergeant Michael Pedersen, fatally stabbed his children and then took his own life.
Ben and Freya Pedersen, aged seven and six, were found next to a car on a remote bridleway in Newton Stacey, near Andover, Hampshire, in September.
Mr Pedersen, 51, from Chertsey, Surrey, and a former member of the Household Cavalry, was with his horse Sefton, who also survived, at the time of the bombing.