Lee Rigby murder: Woolwich suspect remains in custody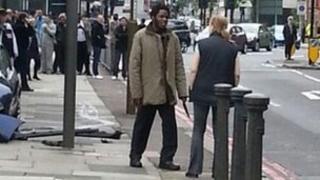 A suspect in the murder of Drummer Lee Rigby in Woolwich remains in custody after being discharged from hospital.
Michael Adebowale, 22, will be questioned by the Met Police Counter Terrorism Command about the soldier's killing in south-east London last week.
The family of Michael Adebolajo, a second suspect still in hospital, have expressed "horror" at the fatal attack.
On Tuesday night, a 50-year-old man who was arrested in Welling, south-east London, on Monday was bailed.
Mr Adebowale has also been formally arrested on suspicion of the attempted murder of a police officer.
Drummer Rigby was repeatedly stabbed in the street by two men in Woolwich last Wednesday, witnesses have said.
Police guard
Mr Adebowale, from south-east London, and Mr Adebolajo, 28, were shot and injured by police at the scene near Woolwich Barracks. They have been under police guard in hospital.
Scotland Yard has said that the men would not be questioned until they had been discharged from hospital, and the time they had spent under arrest so far would not count towards the maximum amount of time they could legally be held without charge.
Both men are Britons of Nigerian descent who are understood to be converts to Islam.
Police said the 50-year-old man had been "bailed to a later date pending further inquiries".
Seven other people have been arrested in connection with the attack so far. Five have been bailed and two released without charge.
Return to duty
The Independent Police Complaints Commission is investigating the circumstances surrounding the shooting of the two men.
It said two police officers had fired gunshots and one had used a taser in the incident.
Meanwhile, Scotland Yard said the three officers could be back on operational duty "fairly quickly".
Chief Superintendent Alistair Sutherland said they were currently going through the police's "post-incident process" along with two of their commanders.
He said that, given the circumstances of the incident, he expected they would return to full duties in the coming weeks.
The Metropolitan Police said it was standard procedure to withdraw officers temporarily from operational duty while an incident involving use of their weapons was investigated.