Lee Rigby murder: Letter urges MI5 probe over Woolwich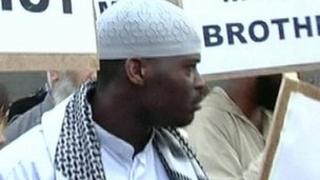 A childhood friend of one of the Woolwich soldier murder suspects has written to the Commons Intelligence and Security Committee with further allegations about the role of MI5.
Abu Nusaybah asked the committee to investigate any connection between British and Kenyan authorities in the "mistreatment" of Michael Adebolajo.
Drummer Lee Rigby was murdered in south-east London last Wednesday.
Committee chairman Sir Malcolm Rifkind said he would look into the claims.
This would be part of the committee's wider investigation into the role of the security services, he said.
Mr Adebolajo, 28, claims he was tortured by the Kenyan authorities when he travelled to the country in 2010.
'Initial conversation'
Sir Malcolm told the BBC's Newsnight programme: "I can confirm that I've received that letter and we will treat it as we are treating all the other reports that have appeared, in the newspapers or on television, making various claims about whether the intelligence agencies were involved.
"That's our job. Our job is to look at these matters. I've already had an initial conversation with the head of MI5. He is anxious to co-operate very fully with the Intelligence and Security Committee."
Last week, Mr Nusaybah was arrested after giving an interview to Newsnight.
On that programme Mr Nusaybah claimed MI5 asked Mr Adebolajo if he wanted to work for them about six months before the killing of Drummer Rigby.
He said Mr Adebolajo had rejected the approach from the security service.
The BBC could not obtain any confirmation from Whitehall sources.
Another of the murder suspects, Michael Adebowale, 22, has been discharged from hospital and moved into custody in a south London police station. Mr Adebolajo remains in hospital.
They were were shot and injured by police at the scene near Woolwich Barracks.
Drummer Rigby was stabbed repeatedly in the street by two men last week in Woolwich, witnesses have said.
Eight other people have been arrested in connection with the attack so far; six them have been bailed and two released without charge.