Leading lawyers criticise plans to restrict legal aid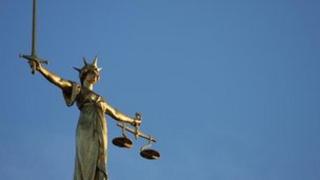 Ninety leading barristers have urged the government to withdraw "unjust proposals" to restrict legal aid for people demanding judicial reviews.
In a letter to the Daily Telegraph, they said planned curbs endanger the public's "practical access to justice".
It said: "Abuses by UK agents and officials overseas... will now in practice attract impunity."
But the government said the reforms would stop legal aid being used to fund "weak cases".
Individuals and organisations can seek a judicial review if they think a decision by a public body has been made unlawfully.
The review, carried out by a judge, looks only at the way the decision was reached, rather than whether it was correct or not.
Among the 89 QCs to have signed the letter are former Labour Attorney-General Lord Goldsmith, Liberal Democrat peer and former director of public prosecutions Lord Macdonald of River Glaven, and Philippe Sands, a professor of international law who has written widely about the US response to terrorism.
'One-sided'
The signatories warned: "In practice, these changes will immunise government and other public authorities from effective legal challenge.
"Abuses by UK agents and officials overseas that hitherto have been subject to the scrutiny of British courts will now in practice attract impunity.
"People whose lives are affected by the unlawful action of public bodies will have no option but to try to represent themselves.
"Effective representation will be one-sided: The government will continue to pay for, and be represented by, specialist lawyers."
The Ministry of Justice is proposing to stop paying legal aid to non-residents and people complaining of mistreatment in prison, the letter explained.
Specialist law firms would be driven out of business, and vulnerable people would be left without access to appropriate legal advice, the lawyers predicted.
"The cumulative effect of these proposals will seriously undermine the rule of law, and Britain's global reputation for justice," they said.
A Ministry of Justice spokesman said: "Judicial review is an important way of challenging decisions by public authorities, and we believe it should remain so.
"But we are concerned that legal aid is currently being used to fund a significant number of weak cases which have little effect other than to incur unnecessary costs for the taxpayer.
'Weak and frivolous'
"Our proposal would not prevent legal aid being granted for future judicial reviews."
The Ministry of Justice said last month that only one in six judicial review applications between 2007 and 2011 was granted permission to proceed beyond the earliest stages.
The vast majority of judicial review applications are immigration cases, with 8,734 such applications made in 2011, of which 607 were deemed suitable for a hearing. Thirty-one were ultimately successful.
Ministers are concerned that judicial reviews, particularly in cases involving construction projects, are frustrating economic growth.
Justice Secretary Chris Grayling said judicial reviews were increasingly being sought for "PR purposes" and the proposed changes would weed out the "weak and frivolous" cases while still enabling genuine challenges.