Lulzsec hacker's online access restricted over child porn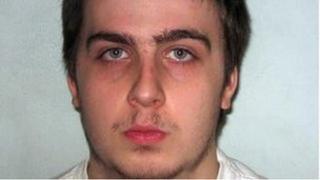 A jailed hacker due to be released soon is to have his online access severely restricted after admitting possessing images of child sex abuse.
Ryan Cleary, 21, of Wickford, Essex, has already served more than half of a two years eight months sentence for his role in a range of cyber attacks.
Cleary was convicted in May for his role in attacks with the Lulzsec group.
He will be released "imminently" but a judge sentenced him to community orders on release.
In 2011, police found 172 indecent images of children on two computers belonging to Cleary when they raided the home he shared with his mother, while investigating suspicions of hacking.
Cleary, known online as ViraL, was jailed for his role in attacks on a range of organisations including the CIA and the Serious Organised Crime Agency as part of Lulzsec.
Their attacks placed the personal details of hundreds of thousands of people unencrypted on the internet, potentially at the mercy of organised crime.
At the time he was jailed for those attacks, he also admitted two counts of making indecent images and one of possessing indecent images.
Judge Deborah Taylor ruled on Wednesday that Cleary be barred from using the internet to talk to anyone under the age of 16 and severely restricted other online access.
Time served
He was also banned from working with children and placed on the sex offenders register for five years.
Southwark Crown Court heard that because of his guilty pleas to all charges and the amount of time he had already served on remand or wearing an electronic tag, Cleary would soon be released.
Sentencing him, Judge Taylor said: "Some of these images showed children aged as young as six months old in circumstances where they were completely vulnerable.
"These images were such as would make any right-minded person concerned at you viewing such images."
She added: "I have also taken into account that although the sentencing guideline recommend an immediate custodial sentence, time has been served in any event."
Fellow LulzSec members Ryan Ackroyd, Jake Davis and Mustafa Al-Bassam were handed various sentences last month for their roles in the hacking.
A lawyer for the Crown Prosecution Service, Andrew Hadik, called their actions "cowardly and vindictive".
The group they were a part of, Lulzsec, emerged as a splinter-group of the Anonymous hacking collective in May 2011.
The name stood for Lulz Security - in which "Lulz" is derived from the popular internet term "lol", meaning "laugh out loud".