Glastonbury founder Michael Eavis in 'drink less' call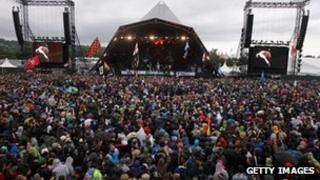 Glastonbury Festival organiser Michael Eavis says he would prefer music fans to "drink much less" at the event.
Festival-goers have been known to take wheelbarrows and trolleys of alcohol on to the site at Worthy Farm in Somerset.
Ticket-holders for this month's event got an email warning them not to bring alcohol in a "wheeled device".
In a message later on the event website Mr Eavis sought to clarify the policy by saying trolleys would be allowed but drink should be for personal use.
'Mixed messages'
The message on the Glastonbury website posted on Thursday came after some ticket-holders who received the email took to social network sites to express concerns their enjoyment of the event would be affected.
It read: "In reference to the email about alcohol that went out to Glastonbury 2013 ticket-holders this morning, my personal preference is for people that come to our festival to drink much less!
"However, Glastonbury remains the only major festival that allows people to bring their own alcohol in, and you are still OK to bring your own alcohol through the gates, providing it's just for your own use (whether it's on a trolley or not)."
The message emailed to ticket-holders in the morning had said festival-goers "must be able to carry your alcohol yourself, without using any wheeled devices, including trolleys, wheelbarrows and wheeled suitcases.
"Any alcohol which is brought to the gates using a wheeled device will not be allowed in, and may be confiscated."
It added that no glass bottles would be allowed on site and all alcohol "must be for personal consumption only".
Fans took to Facebook to thank Mr Eavis for clarifying the situation, although some said they were confused by the "mixed messages".
The festival, which runs between 28 and 30 June, features performances by the Rolling Stones, Arctic Monkeys, Mumford & Sons and Dizzee Rascal.