Rural poverty: Surviving England's green and pleasant land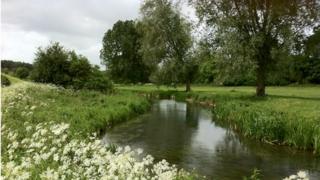 Many city dwellers yearn for a better life in the countryside. But while it may look like idyllic views and opulence on the surface, a lot of people are struggling to get by.
In the heart of the English Cotswolds, with its glorious scenery, quaint thatched cottages and steady stream of well-heeled tourists, a mother of three waits patiently for help at a charity food bank.
Elaine lives in a rural hamlet several miles from Moreton-in-Marsh, in Gloucestershire. She says her husband's agricultural engineering business is struggling and things have got to the point where she is having difficulty feeding her family.
"I just go round to my cupboards and think that tin of potatoes will have to do today," she says. "Me and my husband will go without to feed our children."
According to research carried out by Loughborough University, on behalf of the Joseph Rowntree Foundation, the cost of living in rural areas can be significantly higher than in our urban centres.
In fact, figures from 2012 estimate that a family with two children living in a remote hamlet in England often need £80 more per week to get by than their city counterparts, mainly due to higher travel costs and more expensive energy bills.
Food or bills?
Elaine emerges from the Trussell Trust food bank in Moreton-in-Marsh, which is now one of four such emergency outlets in the region. She clutches a bag full of rice, tinned fruit and vegetables. This food supply will help feed her family for the next few days.
It seems hard to believe that such poverty exists in this seemingly wealthy area, with its plethora of rose-lined doors and shining four-by-fours sweeping past. But, James Milton, who is in charge of handing out help here says appearances can be very deceptive.
"The greenest of fields does not feed you, the prettiness of cottages around you does not put food on your table."
Mr Milton says that Elaine's problems are far from rare in this outwardly prosperous community where on a busy day eight or nine families may come in seeking emergency help.
"We have people coming in who have to make real choices between shopping for food or paying the essential bills," he says. "It is, do we eat or do we pay the rent, or rates or electricity. Parents will be going without food sometimes for days on end so that their children can eat."
The same reliance on help is being seen across the country, with Oxfam reporting in May that more than half a million people in the UK may rely on food banks.
A combination of lower wages and soaring fuel and heating costs are leading to the need for growing numbers of food banks in rural areas, according to the Trussell Trust.
Loughborough University's Donald Hirsch, who led the Joseph Rowntree Foundation's research, says rural families often need two cars instead of the one needed by families in urban areas and that greater travelling distances add to fuel costs.
Homes are often more expensive to heat because they are older, bigger and have worse insulation than those in cities, he adds.
The cost of owning and renting a property can also be high in popular rural areas like the Cotswolds and south-west England, where people on local wages have to compete with large numbers of incomers on higher city salaries.
The Cotswolds is made up of several district councils. In the Cotswold district - which includes Moreton-in-Marsh - the average house price is £311,488, compared with the national average of £238,976, latest figures from the Land Registry show.
The median income in 2012, meanwhile, was £2,000 less in Cotswold than the UK average of £21,473.
The Reverend Barbara Bridges, of Moreton-In-Marsh Congregational Church, says most local people just about manage to get by. But, she adds, the smallest extra cost can push their finances over the edge.
"It really is such a balance. People's budgets are balancing to the penny so there are absolutely no reserves.
"All it needs is a new pair of shoes for a child or a slightly unexpected higher than normal bill, and the money just doesn't stretch, and then what do you do?"
There are fears that the planned abolition in October of the panel which sets farm workers' pay and conditions, the Agricultural Wages Board, will lead to even lower incomes for thousands of rural workers.
This will follow the scrapping last April of the Commission for Rural Communities, which had the task of highlighting the needs of the countryside. Critics say the hardships facing rural people will now go even more unnoticed than ever.
Elaine says winter is the worst time of the year for her family because they can no longer afford to heat their old and poorly-insulated home.
"It costs too much so we've got no central heating, no electric," she says. "No immediate heat to keep us warm. We've had snow and everything and really suffered. You know plenty of clothes, plenty of scarves."
The answer, for many rural dwellers, might be to move to a town or city where money will go further and jobs will often be more available and better paid. Yet, despite all her financial problems, Elaine insists she would rather remain in poverty than swap the countryside around her for concrete.
"It's beautiful here. I just couldn't go and live in a city or a town.
"However hard it gets, I will still be living in the country."